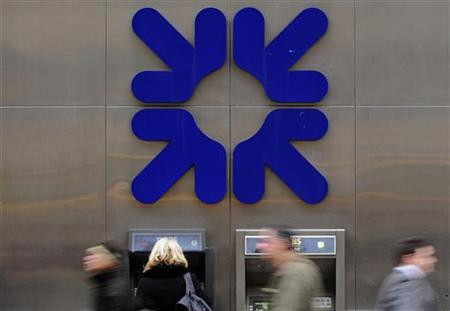 Shares in RBS were up on the FTSE 100 after the part-nationalised bank confirmed that it would be disposing of its units in Pakistan and the United Arab Emirates. It is also expected to sell off its assets in Kazakhstan.
The disposals are part of a major re-organisation of the bank following its bailout by the government during the financial crisis. The group's CEO, Stephen Hester, has said the bank could make around £250 billion from the sale of non-core assets.
In Pakistan RBS sold its 99.4 per cent stake in its unit there to Faysal Bank for 41 million euros. In the United Arab Emirates RBS sold its retail banking business to Abu Dhabi Commercial Bank for a price that will depend on its value once the sale is completed.
By 09:25 shares in RBS were up 1.48 per cent to 45.84 pence per share on the FTSE 100.
Other British banks were also up with Lloyds Banking Group shares rising 1.91 per cent to 56.69 pence per share, Barclays shares increasing 1.03 per cent to 308.00 pence per share and HSBC shares climbing 0.46 per cent to 651.50 pence per share.
Overall the FTSE 100 was up 0.67 per cent to 5,273.20.