A number of Real Madrid fans have voiced their anger at club President Florentino Perez, calling for his resignation after a controversial summer overhaul.
Even though the Spanish giants won the Champions League and the Copa del Rey last season, the President decided to undertake a dramatic revolution during the summer transfer window.
Real Madrid signed £63m World Cup stars James Rodriguez, Toni Kroos and Keylor Navas, as well as Manchester United striker Javier 'Chicharito' Hernandez. However he let crucial players Angel Di Maria and Xabi Alonso leave the team in the closing stages of the transfer window, along with Alvaro Morata and Diego Lopez.
Cristiano Ronaldo has let the criticism of Perez's decisions, while a disappointing start to the season increased the scrutiny on the Real Madrid president still further.
Los Blancos lost 2-1 to big rivals Atletico Madrid at home on Saturday, leaving Carlo Ancelotti's side with just three points from three matches and six points behind leaders Barcelona.
During the game a number of Real Madrid fans voiced their displeasure with the President, chanting "Florentino, Resign". Prior to the game they hung signs on the streets of the Spanish Capital demanding Perez's head.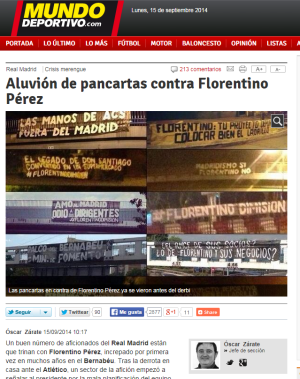 According to Mundo Deportivo the fans believe the President is using Real Madrid to advance his own personal business, ACS, Spain's largest construction company.
They have accused the Real Madrid president of having spent £63m on James Rodriguez just to expand his company to Colombia as, shortly after the transfer, ACS started to build an important highway in the South American country.
They believe Rodriguez's acquisition was completely unnecessary and has indeed caused a huge problem for Ancelotti.
With Ronaldo, Gareth Bale and Karim Benzema up front, the Colombian star has no space at all in the starting line-up - while Manchester United's new signing Di Maria gave them the perfect balance in the midfield thanks to his hard-working attitude.
The Argentine star has already blamed Perez for his exit to United, hinting at a poor relationship between the two men, while the club president claimed they sold Di Maria solely due to his high salary demands.