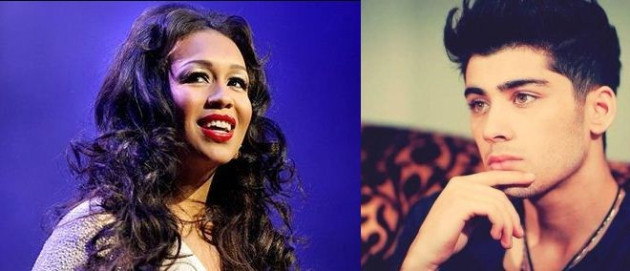 X Factor 2010 runner-up Rebecca Ferguson has admitted she was stunned after her ex-boyfriend, One Direction star Zayn Malik, dubbed their relationship as "a mistake". The two, who met on the sets of the reality talent show, had shared a four-month romance in 2011.
The 19-year-old had recently revealed that the two shared a stormy relationship and are not on talking terms yet.
"It was just a wrong idea from the start. It shouldn't have happened," Malik told Now Magazine. "It did end quite badly so we don't talk any more. We're not in touch at all. It was just a weird situation and a weird time I was going through being away from home on The X Factor tour. To get that comfort and friendship from someone was nice. But I think it was a wrong decision to make at such a young age."
Ferguson who is seven years older than him, hit back at Mailk's comments and said she is not pleased about what he said.
"I was so shocked by what he said!" Ferguson told New! Magazine. "All I will say is that there have been a lot of things said and he knows so far that I've stayed classy and quiet and bitten my lip. I'm not one to reveal big secrets about what's gone on in a relationship, and I think he was probably put up to this. I know him too well to think he'd say it deliberately."
But the mother-of-two was not ready to open up about what went wrong between them.
"I won't talk about what went wrong between us but he knows what happened. And it is what it is," the 26-year-old said. "At this point in my career and at my stage of life, I won't expose what went on there."
Despite the rancour, she had sweet words for Malik's new girlfriend Perrie Edwards from Little Mix, and insisted that there is no ill-feeling towards them.
"I haven't [met her] but I am a fan of the Little Mix girls and she seems lovely. I think they're good together," she said.