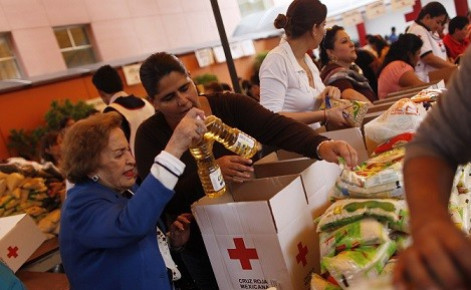 The Red Cross will distribute food to the needy in the UK for the first time since World War Two to help deal with the rising numbers of people struggling to feed themselves.
The Red Cross said volunteers will be sent to supermarkets for three days to ask shoppers to donate dry food items, which will then be sent to food banks through the charity FareShare.
Welfare cuts and austerity measures have seen a rise in the number of people turning to food banks and soup kitchens as families struggle to put food on the table, according to the Independent.
Juliet Mountford, head of UK service development, said the Red Cross agreed to work with FareShare on the basis of "strong evidence of an increased need for support on food poverty issues".
She added: "For the British Red Cross it's a toe in the water. It's the first step in considering whether we ought to be doing more on today's food poverty challenge."
According to figures from the Trussell Trust food bank network, around 500,000 people required the use of food banks in the UK last year, with the number expected to increase in 2014.
An additional report by the Red Cross said there has been a 75% rise in people relying on food banks across Europe over the last three years.
Not getting enough to eat
At least 43 million people in Europe are not getting enough to eat each day, and 120 million are at risk of poverty, according to the report.
The Red Cross are now calling on European governments to tackle the food crisis on the continent and help the millions of people battling against austerity cuts.
Bekele Geleta, the secretary general of the International Federation of the Red Cross, said: "While we fully understand that governments need to save money, we strongly advise against indiscriminate cuts in public health and social welfare, as it may cost more in the long run."
The collections, which will take place on 29 and 30 November and 1 December, are set to help feed about 130,000 people across the UK. The charity estimates 5.8 million people in Britain are struggling to afford everyday essentials like food.
UK poverty director for Oxfam Chris Johnes told the Independent he was "genuinely shocked" that the Red Cross are required to feed people in the UK for the first time in 70 years.
"They don't do things for reasons of grandstanding at all," he said. "The fact that they are doing this ... is a very clear signal how serious things have become."
Maria Eagle MP, Labour's shadow environment secretary, added: "This warning ... about the growing number of families facing a lack of nutritious food in Britain should be a wake-up call to David Cameron over his failure to tackle the cost of living crisis."