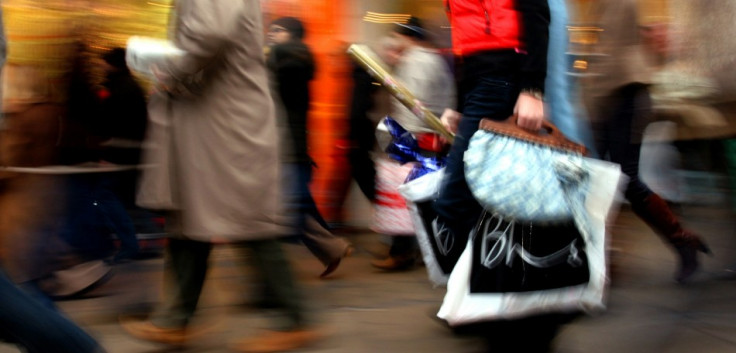 Retail sales in the UK slowed down in October as consumers restricted their spending to essential goods, dampening hopes of an economic recovery aided by the retail sector.
Britain's like-for-like sales, a widely used measure that excludes newly opened retail outlets for comparison purposes, fell by 0.1 percent year-on-year in value terms in October, according to the British Retail Consortium. On average, sales rose by 0.4 percent over the last three months, marking the weakest growth in 11 months.
In September, retail sales improved 1.5 percent, raising hopes that Britons had started spending again following a long austerity period.
"Unfortunately it looks like the modest sales revival we saw in September was something of a false dawn," said Stephen Robertson, director general of the BRC. "The disappointing figures are a reminder of the difficult economic realities many are still facing. Falling consumer confidence means people are limiting spending to essential items and are cautious about committing to big-ticket and discretionary buying."
Food sales in value terms increased on rising prices, but volumes sold were stable. With little spare money to spend by consumers, sales of home accessories plunged during October.
Despite a boost at the beginning, clothing and footwear sales slowed down towards the end of the month with many shoppers having become cautious again.
Meanwhile, the country's expansion of the service sector, which accounts for about 75 percent of the GDP, was stagnant with new business failing to make up for projects completed during the month.
The economy grew one percent in the third quarter, hinting at an escape from double-dip recession. However, the current development could suggest the economy is shrinking further and heading for a triple-dip recession, according to the Guardian.
The Markit/CIPS Purchasing Managers' Index for the services sector declined to 50.6 in October from 52.2 in September, suggesting a sluggish growth in the sector during the fourth quarter. Additionally, consumer confidence fell to its lowest in six months in October, according to a survey by researchers GfK NOP.
"The recession may officially be over but it will take a little longer for consumers to feel they can spend freely again. Retailers are holding less stock than a year ago and may choose to be cautious with pre-Christmas sales in order to protect margins. However, the disappointing sales figures for October indicate that winning share of the Christmas wallet will be just as competitive over the next two months as it was last year," said David McCorquodale, head of retail at KPMG, which conducts the survey with the BRC.