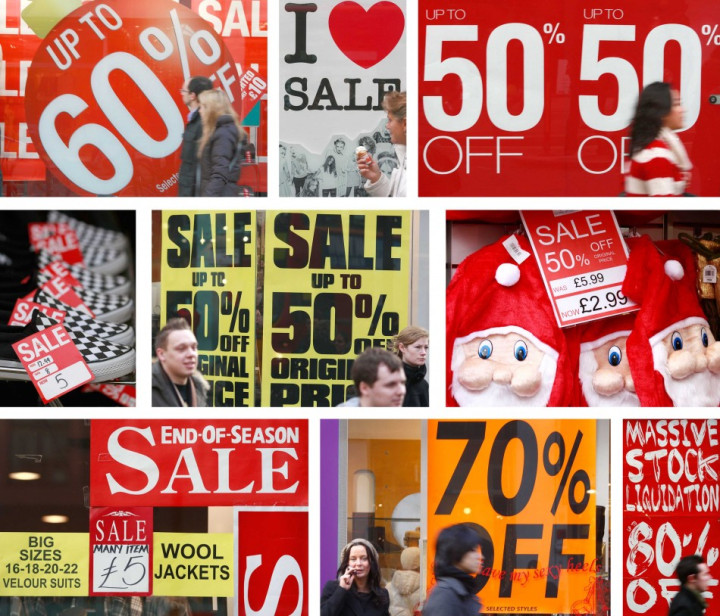 Investors are bracing for an even deeper slump in Britain's economy for the final three months of the year after disappointing retail sales data from December suggest a stalled recovery and grim prospects for avoiding a triple-dip recession.
UK retail sales fell by 0.1 percent from a disappointing tally in November, the Office for National Statistics reported Friday. Excluding volatile petrol sales, the annual gain of 1.1 percent was the slowest since 1998 if figures from 2010 when severe snow covered much of Britain and kept shoppers home are removed.
"The situation is unlikely to improve much over the coming year," warned Scotiabank economist Alan Clarke. "Employment growth is already cooling off and the trajectory for inflation is upwards. Both mean that households will have less spare cash and this should hold back demand."
The data caps a horrific spell for the UK "High Street", in which four major retailers - Comet, Jessops, HMV and Blockbuster - filed for creditor protection amid slumping sales and relentless online competition.
The deeper implication for the broader economy, however, is that the lack of spending confidence will have acted as a significant drag on GDP growth last year and put even more pressure on the Conservative-led coalition government's annual budget statement on 20 March.
Fitch Ratings told the Reuters news agency earlier this week that it may strip Britain of its triple-A credit rating if the government is unable to meet its high-touted deficit reduction pledges. Similar warnings have been published by Standard & Poor's and Moody's Investors Service.
The ONS will publish its first estimate of economic growth for the final three months of last year on 25 January. Analysts expect the ONS will report a small contraction for the period after a surprise 0.9 percent advance in the third quarter that was boosted in large part by the London Olympic Games.
"UK policy makers have been aware for a long time that the return to stable and sustainable growth would require a rebalancing of the economy away from domestic demand and towards external demand," wrote Societe Generale's UK economist Brian Hilliard. "The sharp decline in the exchange rate should have helped but has had little apparent effect to date."
Britain's trade gap narrowed to £9.164bn in November on solid monthly exports, the ONS said on 9 January, but the figure was still shy of analysts' estimates and the widening gap with the UK's biggest trading partner - the European Union - suggests overall exports will also act as a drag on 2012 growth.
Germany slashed its full-year growth forecast by more than half earlier this week as exports slow and trade takes its toll on the region's largest economy. Exports will slow to a 2.8 percent pace this year, the Economy Ministry said in a statement published on its website Wednesday, against a 3.5 percent gain in imports that will likely trim around 0.1 percent from German GDP this year, which the Ministry estimates will grow by 0.4 percent - less than half the 1 percent expansion it had previously published.
Germany's Federal Statistic Office said Tuesday that Germany GDP shrank by 0.5 percent in the final three months of 2012 and 0.7 percent for the full year. Exports, the Office said, grew at 4.1 percent annual pace - compared to 7.8 percent in 2011.
The pound fell to its lowest level in at least two months against the US dollar as investors bet the disappointing figures would compel the Bank of England to increase its £375bn programme of asset purchases - known as quantitative easing - to revive the country's growth prospects. On a trade-weighted basis, sterling hit a nine-month low of 82.0 against the dollar and the euro, according to BoE data.
Investors' views on sterling are "... the most bearish I can remember since December 2008," said World First Currency Exchange chief economist Jeremy Cook on the social networking site Twitter.