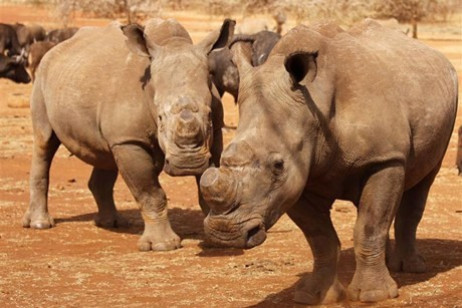 Poachers have killed nearly 300 rhinos in the first six months of 2012, with the world-famous Kruger National Park accounting for more than half the killings, authorities have said.
The Department of Environmental Affairs confirmed that 281 rhinos have been killed by poachers since the beginning of the year. Kruger National Park has lost 164.
North West, Mpumalanga and KwaZulu-Natal provinces continue to be targeted by poachers, accounting for 110 of the total of slaughtered rhinos.
With roughly 20,000 rhinos, South Africa is home to up to 80 percent of the world population. But it has seen a devastating increase in poaching in recent years as black market demand for rhino horn has soared.
Poachers illegally killed 448 rhinos in the country in 2011, 252 of them from Kruger Park. The kill total was up from a total of 333 in 2010 and just 13 in 2007.
The department said 176 people have been arrested since January, 153 of them alleged poachers. Others have been classified as couriers, buyers or exporters.
The animals' distinctive horns are hacked off to be smuggled to the lucrative Asian black market. The tough protein keratin that the horn is largely composed off is falsely believed to have powerful healing properties and powdered horn is used in traditional medicines and is believed to relieve cancer symptoms.
Horns can fetch up to £38,000 each.
The rhino population grew by six percent a year, according to South African National Parks.