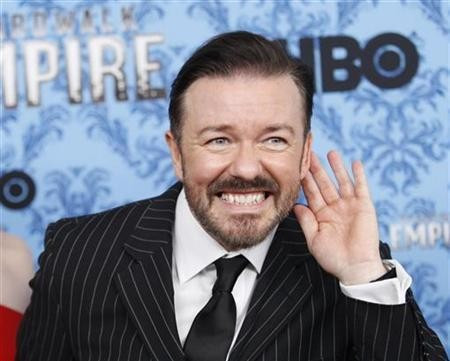 Ricky Gervais is set to host the Golden Globes for the third time, despite the controversy he caused in the role last time.
Gervais, 50, had been told he would never be invited back to the ceremony, which is to be held Jan. 15, after making jokes and put-downs about Hollywood starts including Angelina Jolie, Johnny Depp and Robert Downey Jr.
The Hollywood Foreign Press Association met with NBC, who will broadcast the ceremony, and decided to choose the comedian and actor to host the awards again.
At the last Golden Globes earlier this year, Gervais joked that the HFPA accepts bribes and made several jokes about actors who were in attendance.
"It seemed like everything was three-dimensional this year, except the characters in 'The Tourist" he quipped, a joke aimed at that film's stars Angelina Jolie and Johnny Depp, whose nominations he joked were the product of bribery.
Gervais also lauded the un-nominated "I Love You Philip Morris" as a movie in which two heterosexual men play two gay men "so the opposite of some famous Scientologists," he joked.
Gervais posted a YouTube clip on his Twitter page of his biting opening monologue from the 2011 show, promising "This (times) 10."
He added: "I'm telling you now If you don't like it...F*ck you! If you do like it.. Love you!" Gervais tweeted.
The HFPA acknowledged on its website that "not everyone is happy with the decision" to bring Gervais back because "his blunt one-liners targeting big-name celebrities caused anger and resentment in some quarters."
Despite the controversy that Gervais brought to last year's proceedings, the ratings for the ceremony were nearly 17 million, helping NBC beat its competitors in that timeslot.
The 69th annual Golden Globe Awards will be held Jan. 15 at the Beverly Hilton Hotel in Beverly Hills, Calif.