Rihanna and ex-boyfriend Chris Brown were spotted exchanging a kiss and embrace during the 2012 MTV Video Music Awards (VMAs) and now the 24-year-old Caribbean singer has gone a step ahead tweeting support to Brown before his probation progress court hearing in Los Angeles.
"@chrisbrown I'm praying for you and wishing u the best today," Rihanna tweeted, to which he replied, "thank u so much."
In another general tweet, Rihanna expressed more emotions.
"Praying for you baby, my best wishes are with you today! Remember that whatever God does in our lives, it is WELL DONE!!! #1 Love," she wrote, though it is not clear whether she was referring to Brown in the tweet.
Brown, who is on five year probation for assaulting his then girlfriend Rihanna in 2009, was tested positive for marijuana on 18 June in Virginia, where the drug is illegal. But Brown was released with a warning by Judge Patricia Schnegg after the Sweet Love singer claimed he smoked it in California, where he holds a medicinal marijuana card. He was advised by the judge to consider his actions because of his public image and string of young fans.
"You are not an average person sitting in a living room. You are not only in the public eye, but you are on probation," Judge Schnegg said.
Judge Schnegg ordered Brown to return to court on 1 November for another update and asked officials to prepare a supplemental probation report on Brown.
However, the 23-year-old is said to be happy to receive Rihanna's message at this crucial time.
"That was real cool of Rihanna showing the homie some love before he went in [to court.]" "I'm sure that made him happy," a source said, "You know, Rihanna be really looking out for his a**, man. She's so down...just being down and real and true and loving [Chris.] He need that right now. I ain't saying he crying or nothing like that - he just got so much going on right now."
Cover Art for New Single Diamonds
Rihanna gave a glimpse of her latest cover art for her new single Diamonds on Twitter and described it as "happy and hippy" to z100 radio host Elvis Duran.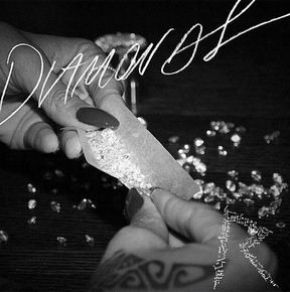 "It gives me such a great feeling when I listen to it. The lyrics are very hopeful and positive . . . And I just think the gears are a little different from what people would expect, I think; and I'm excited about that, I'm excited to surprise them sonically," she was quoted as saying to Rolling Stone.