Alan Rickman had made provisions so the person that supported him throughout his prolific acting career was taken care of in the event of death, the Mail Online revealed on Thursday (25 May). The famed actor, who died of pancreatic cancer in January this year, left the bulk of his £4m ($6m) fortune to his childhood sweetheart, Rima Norton.
The couple started dating when she was 18 and he was 19 after meeting at the Chelsea College of Art. They didn't have any children. Although they had been living together since 1977, they never felt the need to make their relationship official in the eyes of the law until 2012, when they wed in a secret ceremony in New York.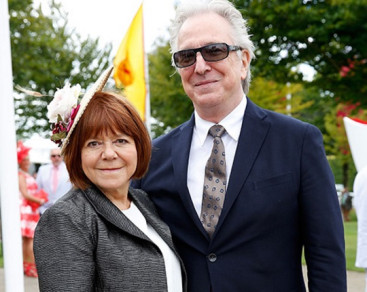 He opened up about the secret nuptials months before his death, telling German magazine Bild that the event came and went without much fanfare: "It was great, because no one was there. After the ceremony in New York, we walked across the Brooklyn Bridge and ate lunch."
His siblings David and Michael Rickman and Sheila Innes also received a legacy sum.
Meanwhile, the generous star – best known for his roles in Die Hard and the Harry Potter movies – also left a total of £100,000 to various charities in his will. Sponsored Arts for Education, The Royal Academy of Dramatic Art, the Facial Surgery Research Foundation –known as Saving Faces – and the International Performers Aid Trust were all named as beneficiaries and received £25,000. He worked closely with the latter two charities during his career.
Probate records reveal that his net estate of £4,060,033 only covered his assets in the UK. According to the will, which was written just three months before the Golden Globe-, Emmy- and SAG-winning actor's death, his assets in Italy and the US will be dealt with separately.
His final film, Alice Through The Looking Glass, is due for release in cinemas this Friday.