Rio Carnival 2013: Feathers, Floats and Beautiful Bodies [SLIDESHOW]
Its carnival time in Rio de Janeiro, and Brazil's second-largest city has been overwhelmed by a quioxtic panoply of beautiful Samba dancers, fantasy floats and steel drums.
Tuesday is the last day of the celebrations before the start of Lent, during which believes abstain from things which bring them bodily pleasure.
The festival's official website says: "Carnival, with all its excesses, celebrated as a profane event, can be considered an act of farewell to the pleasures of the flesh."
During the parade, majestic floats are seen packed with dancers wearing huge headgear, feathers, and sequins. Around 13 samba schools take part in the parades, with each school representing one neighbourhood of the city.
In the parade, the main attractions are the Samba queens who are chosen in a contest. They need to be beautiful, confident and infused with a carnival spirit.
The queens show off their near-perfect bodies at the head of their schools, clad in the most amazing costumes. The Carnival Designer has complete creative control of the parade, and designs every costume worn by those who take part.
A number of TV and film personalities and sports stars have visited Brazil to soak up this year's carnival, including Megan Fox, Gangnam Style rapper Psy, reality star Kim Kardashian and her boyfriend, rapper Kanye West.
Scroll down to see the images of the best floats and Brazilian beauties at the Rio carnival.
Read: Rio Carnival 2013: Brazil Erupts in Colourful and Glamorous Parade and Costumes [PHOTOS]
Read: Rio de Janeiro Carnival 2013: 'Clown Doctors' Cheer Patients during Pre-Carnival Festivities [PHOTOS]
Read: Rio Carnival 2013: Happy King Momo and Stunning Samba Dancers in Rio de Janiero [SLIDESHOW]
Read: Rio Carnival 2013: Topless Femen Activists Protest at Rio de Janeiro International Airport against Sex Tourism [PHOTOS]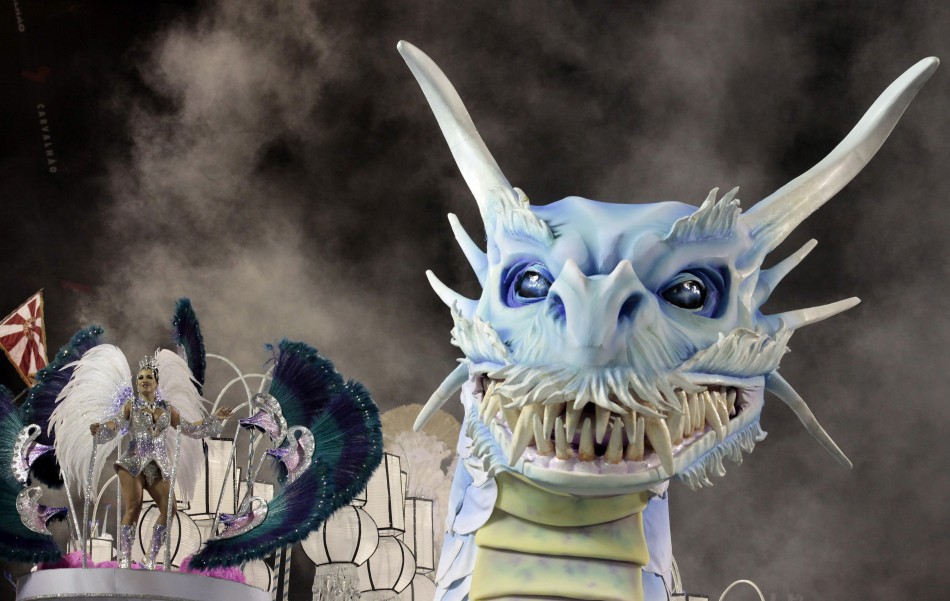 © Copyright IBTimes 2023. All rights reserved.