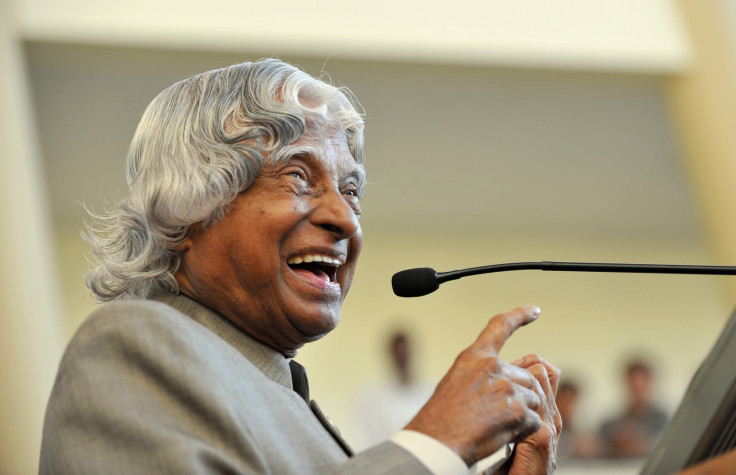 Former Indian President APJ Abdul Kalam has died at the age of 83.
Kalam, fondly called as the country's "missile man" collapsed during a lecture at a management institute in the north-eastern Indian city of Shillong. He was declared dead on arrival at a nearby hospital.
Kalam was the country's president between 2002 and 2007.
IBTimes UK has compiled top quotes by the legendary scientist APJ Abdul Kalam.
"I'm not a handsome guy, but I can give my hand to someone who needs help. Beauty is in the heart, not in the face."
"Let me define a leader. He must have vision and passion and not be afraid of any problem. Instead, he should know how to defeat it. Most importantly, he must work with integrity."
"My message, especially to young people is to have courage to think differently, courage to invent, to travel the unexplored path, courage to discover the impossible and to conquer the problems and succeed. These are great qualities that they must work towards. This is my message to the young people."
"You have to dream before your dreams can come true."
"If a country is to be corruption free and become a nation of beautiful minds, I strongly feel there are three key societal members who can make a difference. They are the father, the mother and the teacher."
"Man needs his difficulties because they are necessary to enjoy success."
"Excellence is a continuous process and not an accident."
"Dream, Dream, Dream. Dream transforms in to thoughts. And thoughts result in action."
"Look at the sky. We are not alone. The whole universe is friendly to us and conspires only to give the best to those who dream and work."
"Life is a difficult game. You can win it only by retaining your birthright to be a person."