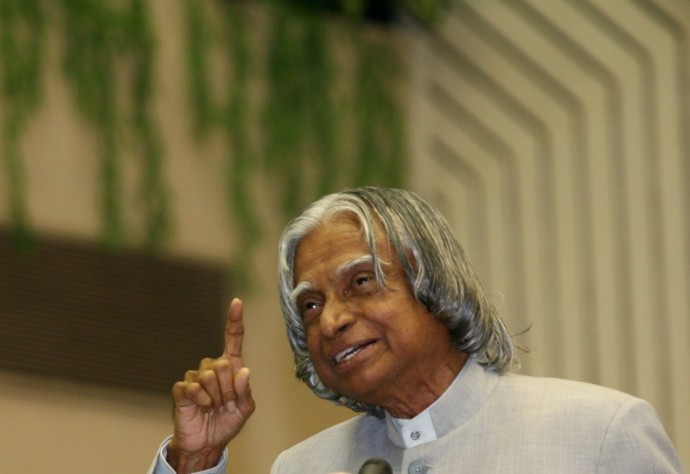 India's former president and top scientist A P J Abdul Kalam, called as the country's "missile man" passed away on Monday (27 July) at 6.30 pm local time, doing what he liked best -- talking to students.
He was 83.
Kalam collapsed two minutes into a lecture at a management institute in the north-eastern Indian city of Shillong and was declared dead on arrival at a nearby hospital.
India declared seven days of national mourning for Kalam, who was the country's president between 2002 and 2007. In his disarming and guileless manner, he broke many norms to become the "people's president".
"India mourns the loss of a great scientist, a wonderful president and above all an inspiring individual," said in Prime Minister Narendra Modi in a statement.
With his enthusiasm for science and simple, straightforward manner Kalam went on to win many hearts as president. Even as the political menagerie pointed to many faults in his functioning, his integrity was never under question by any political party.
Kalam, a bachelor, stood out as the perfect example of the first citizen of the country.
Forever learning and always humble and caring, Kalam was extremely perturbed by the fact that a soldier in the vehicle convoy accompanying him to the lecture venue had to stand throughout the journey. Despite failed attempts to establish radio contact and ask the soldier to sit, Kalam asked to meet the soldier at the venue to apologise to him.
His talk at the institute was on "Creating a liveable planet" and he planned to give the students a project on developmental politics and smooth parliament process. But in his typical humility, the former president pondered: "How can I ask them to give solutions if i don't have any myself."
His child-like enthusiasm was evident when after piloting a Sukhoi at the age of 74, Kalam declared that his childhood dream had been fulfilled.
Kalam continued to interact and inspire students after leaving office. School students and youth sought him out wherever he went. The former president took time to reply to most of the children who wrote to him.
Born to family of fishermen
Born to a Muslim family of fishermen in the southern coastal town of Rameswaram on 15 October, 1931, Kalam first worked as a newspaper vendor to help his family.
From there to becoming India's 11th president, Kalam saw a meteoric rise in fortunes based on his pursuit. After an aeronautical engineering degree, he joined the Vikram Sarabhai Space Centre in Kerala.
Kalam who was one of its first three engineers played a major role in turning the centre into a key hub of space research and was instrumental in developing the country's first indigenous satellite-launch vehicle.
His next stint as a scientist in the defence research organization DRDO for four decades saw the development of the country's home grown missile programme.
He also played a pivotal role in India's nuclear weapons tests in 1998.
Kalam penned many books, many of them inspirational like "Wings of Fire and Ignited Minds" to motivate the youth.
His scientific achievements aside, Kalam will be remembered most for the human being he was - simple and respectful. In addition to being a devout Muslim, he had sincere respect for all religions and would often quote from ancient Sanskrit texts of India.
Science and philosophy found the perfect mix in Kalam. From quoting from the Gita to developing five missiles, and penning poems like "The Vision", where he wrote:
I climbed and climbed
Where is the peak, my Lord?
I ploughed and ploughed,
Where is the knowledge treasure, my Lord?
I sailed and sailed,
Where is the island of peace, my Lord?
Almighty, bless my nation
With vision and sweat resulting into happiness
It would be apt to quote from the bard, "His life was gentle, and the elements, So mix'd in him that Nature might stand up, And say to all the world 'This was a man!"