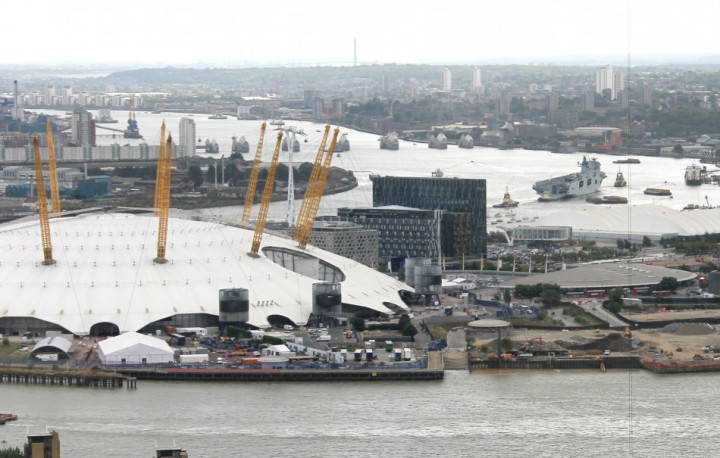 The assault ship HMS Ocean has set sail from London, having completed its tour of duty at the Olympic and Paralympic Games.
The huge assault ship, which has been in the capital to guard against terror attacks since 12 July, left its anchoring in Greenwich at 10.30am.
Tug boats guided the huge craft past the O2 arena and by the huge towers of finance in Canary Wharf, east London, on its journey up the River Thames.
Next up for the 21,500-tonne boat is a voyage along the English coast to pay a visit to her port town in Newcastle.
At a cruising speed of around 15 knots, Ocean is expected to arrive in 24 hours.
Launched in 1995, HMS Ocean was on hand in London if an attack was launched from the River Thames or from the air.
Six helicoptor landing pads and military personnel in quarters below decks created a significant deterrent.
Experts had warned London would be a favourite target for terrorists planning something spectacular, while the eyes of the world were trained on the city.
IB Times took this exclusive picture of the ship on its way up the Thames.
Captain Andrew Betton, Commanding Officer of HMS Ocean, said: "After two months moored on the River Thames at Greenwich supporting the Olympic and Paralympic Games, our departure today closes a fascinating chapter in the ship's life.
"HMS Ocean has provided a fully equipped base for Royal Navy and Army helicopters supporting the Olympic security plan and accommodated a further 400 military personnel working at Greenwich Park.
"Whilst moored in London we have also welcomed almost 20,000 visitors onboard and it has been a fantastic experience to have played our part in this fabulous summer of sporting excellence."