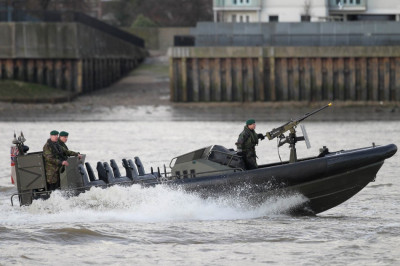 Crack teams from the Royal Marines and Metropolitan Police took to the skies over London and the Thames to highlight security arrangements for the Olympic Games in a very public display.
They were practising their reaction to a potential security disaster or large-scale incident.
Scotland Yard's Marine Police Unit joined marines from 539 Assault Squadron in the first of a series of joint exercises in preparation for London 2012.
"As we get closer to the games, the public can expect to see more exercises like this, which I hope will provide reassurance that everything possible is being done to ensure the event is safe, secure and enjoyable for all those attending and participating," said Philip Hammond, defence secretary.
"This exercise is an example of the way in which military personnel and assets will support the police-led security effort."
About £530m is being spent on security at London 2012. Funds will cover 7,500 military personnel supporting 16,200 security guards inside the Olympic Park, with 12,000 police officers and 6,000 more armed service personnel on the streets.