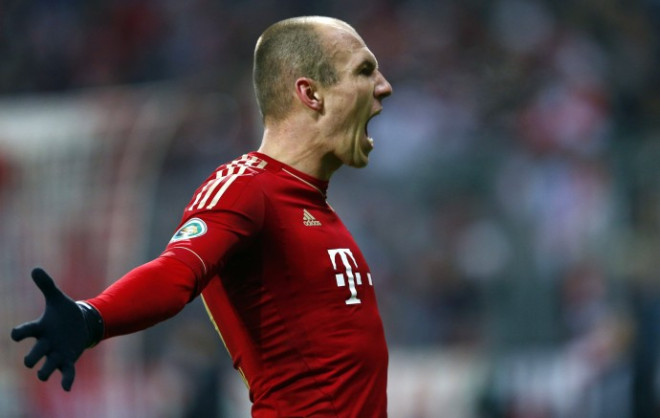 Bayern Munich winger Arjen Robben has warned Manchester United that playing against top opposition brings the best out of him.
The former Chelsea man will come face to face with the Red Devils yet again at Old Trafford, in the quarter finals of the Champions League with United struggling to find some form after what has been an arduous debut in office for David Moyes.
The former Everton manager replaced Sir Alex Ferguson at the helm for United but has failed to live up to expectations with his team currently languishing in seventh position, 10 points adrift of Arsenal in fourth spot.
Their only chance to qualify for Europe is to win the Champions League, in the same ilk as Chelsea in 2012, who finished the season in sixth spot but won the trophy to take Tottenham's spot in the tournament next season.
United are major underdogs coming into the fixture, given their current form and the suspension of Patrice Evra in the first leg.
Robben, who is acquainted with United from his days in Chelsea, is looking forward to the fixture in order to put further misery on the defending English Champions.
"No team can have a stroll to the final. We are facing Manchester United, a big name in world football, but we are razor-sharp. Our football is phenomenal and we want to show that more than anywhere in the Champions League," Robben said in an interview.
"Playing United is the sort of thing that really gets the best out of me.
"We won the German league last week but we were not even bothered about that. Nobody in the dressing room was talking about it. We knew ages ago we would win the title.
"We have made another giant step as a team this season. We are more dominant than we have been. From the very first minute we put massive pressure on our opponents and are capable of keeping the ball and putting them under pressure for the full 90 minutes.
"Our playing style is even more attacking than last year. This manager is tactically so strong. He is always pointing out where we can find the space to get one-on-one situations. He teaches us to make quick sprints and runs without the ball," he concluded.