Borussia Dortmund goalkeeper Roman Weidenfeller has urged team mate Robert Lewandowski to remain with the club.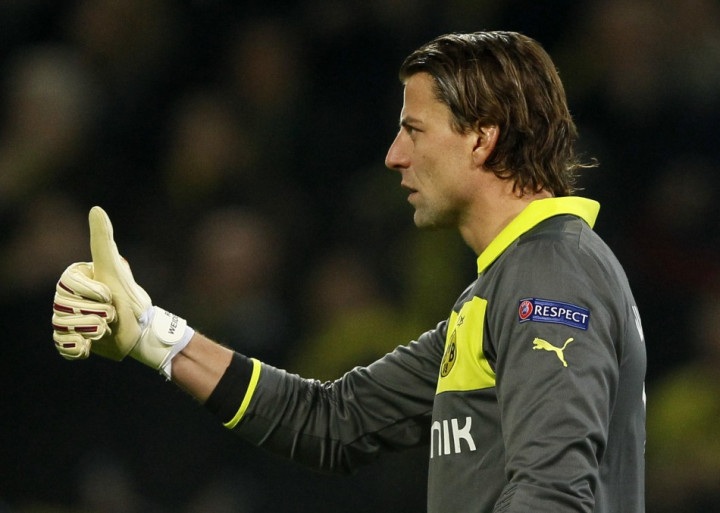 The 24-year-old Polish international striker has confirmed he will not extend his contract, which expires in 2014, with the Bundesliga champions. Lewandowski has been strongly linked with Premier League leaders Manchester United and, more recently Arsenal as well.
"Of course we joke around when we are in different cities in Europe. We make jokes about his next destination but we're just joking. Honestly, we would like to keep him here," Weidenfeller explained, ahead of Wednesday's Champions League quarter final tie at Spanish club Malaga.
Lewandowski signed for Dortmund in 2010 and has 20 goals and five assists from 24 league games this season. In addition, he has five goals from eight appearances in the Champions League, including key strikes against Shakhtar Donetsk in the previous round and Real Madrid in the group stages.
"Lewandowski is not only technical, he's also very quick and has a feeling for goals, so whenever there's a chance he senses it. Every club would be happy to have a player like him. The best place for Lewandowski is here in Dortmund and we hope to keep him. He grew to become a big player here and he belongs to this team," the veteran goalkeeper continued.
Dzeko as Replacement
The Metro reports that should Lewandowski decide to move on, Dortmund will look to Bosnian Edin Dzeko to fill his shoes. The 27-year-old is on the fringes of Roberto Mancini's Manchester City squad. However, Weidenfeller refused to comment on the matter.
"We know Dzeko, he's a great player and a great person - but this is a decision for the management and I don't want to comment on that," the 32-year-old said.
Dortmund have been the success story of European football for the past few seasons. They play some of the best attacking football on the continent and superb performances in the Bundesliga and those such as the ones against Madrid in the group stages of the Champions League this term provide more than enough evidence that they are now one a key European force.