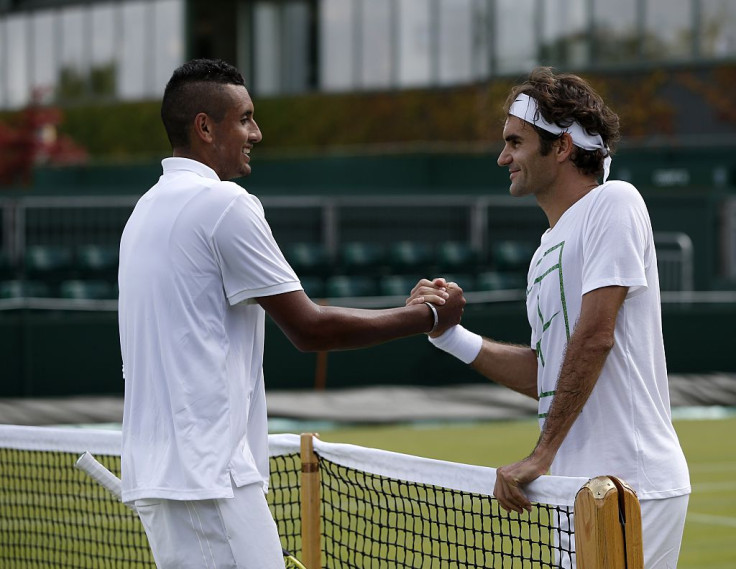 Roger Federer refused to judge the punishment awarded to Nick Kyrgios, but admitted that the Australian needs to 'learn' and 'reflect' on his actions that led to an eight-week ATP Tour ban. The world number 12 was handed the ban by the ATP for tanking a match during the Shanghai Masters, when he appeared to have deliberately under-performed and conceded the second round match to qualifier Mischa Zverev.
The eight-week suspension along with a $25,000 (£20,522) fine ensures that he misses the rest of the season, and return in time for the Australian Open in 2017. Kyrgios could have his ban reduced to three weeks if he agrees to "enter a plan of care under the direction of a sports psychologist or an equivalent plan approved by ATP" which will see him return to action on 7 November.
Federer, however, feels that the Australian needs to realise his actions as he cannot just play 'when he feels like' and has called on him to respect the tour. The Swiss maestro, who has called time on the current season owing to injury, admitted that the player needs to be stronger, after Kyrgios admitted that his reaction was owing to the toll of the Asian circuit which drained him out physically and mentally.
"He should reflect on what happened, then he would realise what he did there, the fact that he wanted to go home but could not," Federer told Swiss newspaper Tages Anzeiger, a quoted by the Sydney Morning Herald.
"He feels blocked and loses the wish and the motivation to try his best. But it's not right to judge if he deserves it [the punishment] or not.
"Maybe he was tired after winning the title in Tokyo, the previous week. Kyrgios can´t only try to play well when he feels like. He needs to learn from this and think things over. He has to behave well also in order to respect the tour. Maybe he needs to be stronger physically and mentally. How to punish him, is another thing," the Swiss former world number one explained.
It was not the first run-in for the Australian with the ATP hierarchy as he was slapped with a suspended $10,000 fine with the threat of another $25,000 payment plus a 28-day ban after he linked fellow Australian pro Thanasi Kokkinakis to Stan Wawrinka's girlfriend during a match at the Montreal Masters.