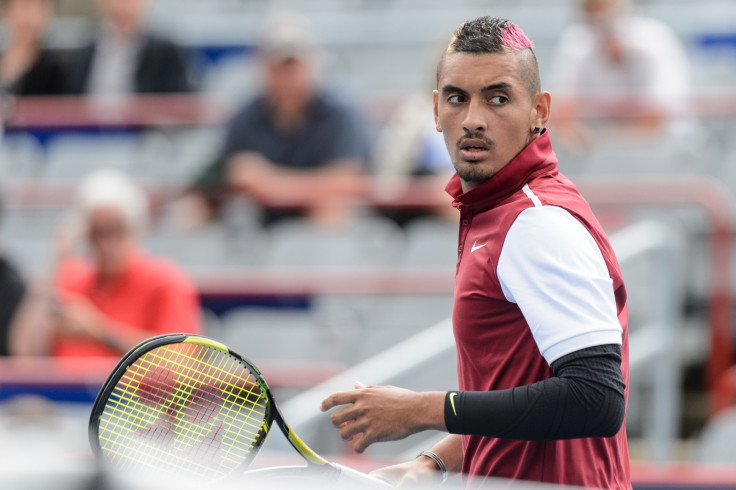 Nick Kyrgios has been fined a total of $12,500 (£8,000) and also served with a notice of investigation by the Association of Tennis Professionals (ATP) after an inappropriate comment directed at Stan Wawrinka during their second-round Rogers Cup clash in Montreal.
The world number 41, no stranger to negative headlines during his short career to date, attracted yet more controversy earlier this week when he enraged Wawrinka with a verbal taunt regarding the French Open champion's current girlfriend Donna Vekic and Australian Davis Cup teammate Thanasi Kokkinakis.
Although Kyrgios won the match after his opponent was forced to withdraw with a back injury in the third set trailing 6-7, 6-3, 4-0, his behaviour has since been strongly criticised with some even calling for the 20-year-old to be handed a suspension for his latest error of judgement.
Wawrinka took to social media to proclaim his disbelief that a fellow professional could "stoop so low" with remarks he would not even say to his "worst enemy". The Swiss further expressed hope that the relevant authorities would take decisive action on the matter and the ATP now appears to have done just that with a fine and the potential for further sanctions.
"The ATP has announced that Nick Kyrgios has been fined the on-site maximum of US$10,000 for an insulting comment he made to Stan Wawrinka during their second-round match at the Rogers Cup in Montreal, Canada," a statement read.
"Following a review of video from the match the ATP has also issued an additional fine of US$2,500 for unsportsmanlike conduct related to a comment made to a ball person during the match.
"In addition, Kyrgios has been served with a notice of investigation which begins a process to determine if his actions also constitute a violation of the player major offence provisions set forth under aggravated behaviour or conduct contrary to the integrity of the game.
"That investigation opens up the possibility of further penalties which could include additional monetary fines and/or suspension from ATP events."
Kyrgios was knocked out of the Rogers Cup men's singles on 13 August after a straight-sets defeat to John Isner at Uniprix Stadium and issued a Facebook post in which he issued a public apology for his actions against Wawrinka.
He said: "I would like to take this opportunity to apologise for the comments I made during the match last night vs Stan Wawrinka. My comments were made in the heat of the moment and were unacceptable on many levels. In addition to the private apology I've made, I would like to make a public apology as well. I take full responsibility for my actions and regret what happened."
Despite that apology, Kyrgios' elder brother Christos seems to have further escalated the situation with comments made during a broadcast of Triple M's The Grill Team programme on Australian radio.
"So just did a media interview for Nick [Kyrgios]," he was quoted as saying on Facebook by The Guardian. "Said Donna [Vekic] obviously loved the 'kokk' [sic]. They cut my interview and said its the worst thing they have ever heard on air. Ah cheers."
The player's mother has also reportedly moved to delete her Twitter account after defending Kyrgios by posting: "A sledge for a sledge...do your research before piping up like sheep! #moaners."