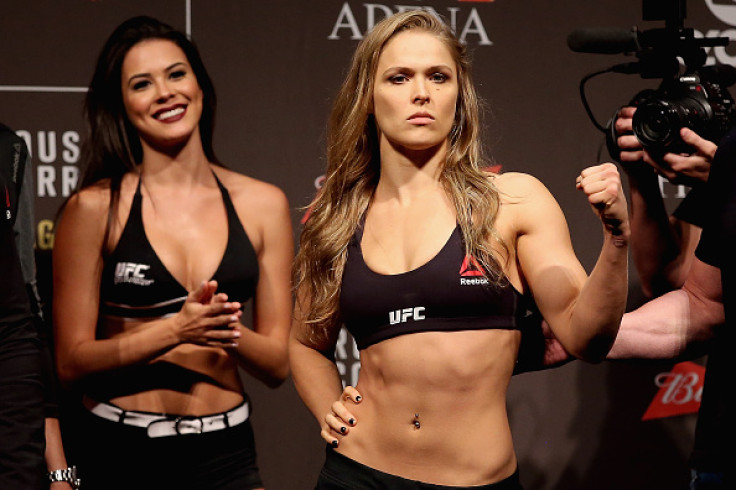 Former Ultimate Fighting Championship (UFC) star Brendan Schaub has questioned Ronda Rousey's mentality ahead of her bantamweight title showdown at UFC 207 against Amanda Nunes at the T-Mobile Arena in Las Vegas on 30 December.
The 29-year-old California born fighter is returning to the octagon after a 13-month hiatus following her brutal knockout against Holly Holm which ended her stint as the longest reigning bantamweight champion in the UFC women's division. Rousey has taken a different approach this time around and has stayed away from the media spotlight leading up to the fight after blaming the intense promotions and media activities as one of the reasons for her loss to Holm last November.
Schaub has questioned her approach and has labelled her 13-month hiatus from the sport as 'scary'. He compared Rousey to UFC men's lightweight champion Conor McGregor, who after losing to Nate Diaz on 5 March, immediately requested for a rematch and returned to win it on 20 August. The 33-year-old, now retired MMA, fighter believes that is the attitude needed from a fighter, rather than go 'MIA'.
Rousey has stated that her fight with Nunes could be one of her last which Schaub believes is not the right way to approach a comeback, and admits that it could backfire. However, despite questioning the challenger's approach and mental state, the podcaster believes the fight against Nunes on 30 December is suited to Rousey and has backed her to win it.
"You look at a real fighter like Conor McGregor. When he lost to Nate (Diaz) he was like, 'I want to fight tomorrow. Give me that f***** fight back man'. His team was like, 'don't take that fight, it's a bad fight for you'. He was like, 'No, I'll do it at 170 pounds. Just to prove to the doubters that I can do it' — that's what you want out of a fighter," Schaub said, as quoted on news.com.au
"What scares me about Ronda, she went MIA, she blamed it on the media. Well that same media turned you into who you are. Her taking this time off, it's a little scary.
"She also said something like this is one of my last ones. Whenever a fighter even hints that this might be the last one, they're one foot in, one foot out, or both feet out. When they say that, they get annihilated. If I hear that, I always take the other guy," the 33-year-old former UFC fighter explained.
"I wouldn't say her striking is world class. If she lands, she's a strong girl, you're in trouble. But Amanda Nunes is a knockout artist, that's the difference.
"Style-wise this fight is a good one for Ronda to come back for. Nunes comes forward and Ronda can throw her around and submit her. My money is still on Ronda, that's banking on her mental state being good. But from what I hear and with the time off, that's up for debate, which is scary," he added.