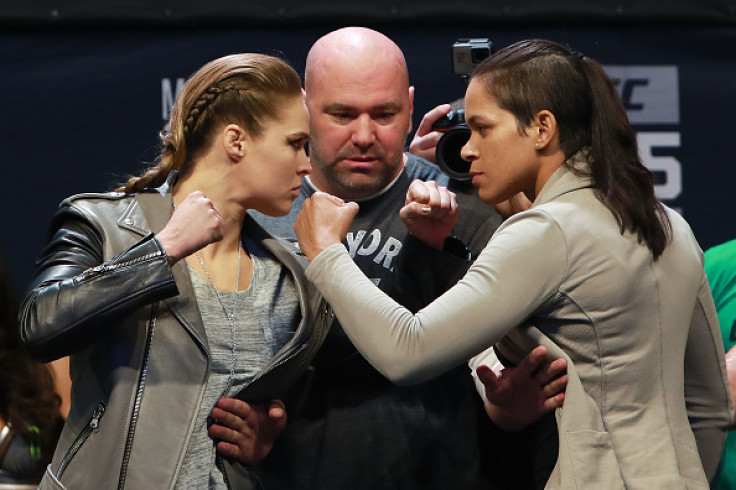 Former mixed martial artist Dan Hardy has warned Ronda Rousey not to allow Amanda Nunes to find her rhythm, if she has to beat the Brazilian fighter to win the women's bantamweight championship at UFC 207.
The two fighters will enter into the Octagon in Nevada's T-Mobile Arena on 30 December, which will be the last event of this calendar year. Rousey will make return to the cage for the first time after more than a year following her first career defeat at the hands of Holly Hom at UFC 193 in November 2015.
Hardy has explained in detail as to when he believes the "Rowdy" will struggle against Nunes at the main event on Friday. He has urged Rousey to come into this fight with confidence if she wishes to regain the title.
"If she comes in absolutely fierce and tries to bully Amanda Nunes early on, then it may go her way again," Hardy explained, as quoted by the MMA Fighting.
"She may be able to overwhelm Amanda Nunes. But if she comes in timid and allows Amanda to find her rhythm and start letting her hands go, then every time she locks up, Amanda is going to be prepared to defend that takedown. And that's when Ronda is going to start to struggle.
"It's imperative that she comes in with confidence, and if she doesn't, that's when the tides are going to turn for her. That's the question. We just don't know where her confidence is at."
Hardy has also questioned Rousey's mindset for the upcoming fight as she has never been in this position before in her career. It will be for the first time the UFC star will get into the cage following her defeat to Holm.
"The interesting thing is Ronda's mindset. You've got to think, she's been away for some time, and the last time she stepped onto that canvas, it was a very traumatic experience for her, which has been relived over and over again," he said.
"It was interesting, the early adverts for the fight also showed the knockout, which now they don't. It raises a lot of questions as to where Ronda is psychologically."