Owners of the Samsung Galaxy Y GT-S5360 can now root and unroot their phones with a hassle-free, one-click interface.
The Multi Root Installer can even unroot your device without having to flash a stock ROM manually. It also comes with an option to choose between SuperUser and SuperSU while acquiring root access.
With due credit to XDA Recognised Contributor manoranjan2050, Multi Root Installer brings the latest versions of the su binary: SuperUser and SuperSU, Busybox, SQLite and SSH. As XDA Developers notes, Multi Root Installer is a GUI app which performs both rooting and unrooting in a step-by-step wizard-based interface.
Be sure to back up all data before attempting to modify your phone.
Features of Multi Root Installer
Added SuperUser 3.1.3+Su
Added SuperSU 0.94+Su
Added BusyBox binary v1.20.2
Added SQlite3
Added SSh
Unroot Support Functions
Deleting all traces of Superuser And SuperSU
Deleting all traces of Suhax
Deleting all traces of Busybox and Busyboxpro
Multi Root Installer Supported/Tested Devices
Galaxy Y (GT-S5360)
Galaxy Y Duos (GT-S6102)
Galaxy ACE Duos (GT-S6802)
Download Link
How to Install Multi Root Installer on Galaxy Y GT-S5360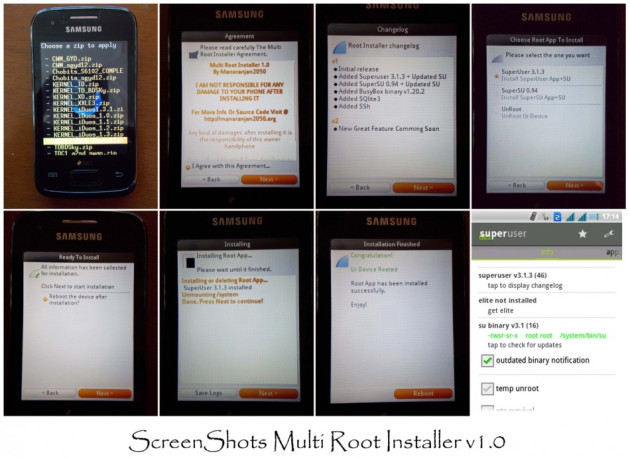 Step 1: Without extracting, copy all zip files to the internal SD card.
Step 2: Open the Multi Root Installer folder you copied in step 1. Highlight the appropriate kernel zip file based on your phone's stock firmware and hit select button.
Step 3: Read and accept the software licence agreement for Multi Root Installer by clicking Next. Tap Next again on the changelog screen.
Step 4: Select the application (app) or function you want to install among SuperUser, SuperSU and Unroot options. For instance, select SuperUser to install Root access on your device. Then, click Next.
Step 5: Click Next again to start installing the chosen app. Once installing or removing the Root app (Unroot) is completed, click Next to continue.
Step 6: Now, you have successfully installed the Root app. Click Reboot to restart the device and allow the changes to affect your device.
Your device is now successfully booted with superuser or root access.
[Source: XDA Developers]