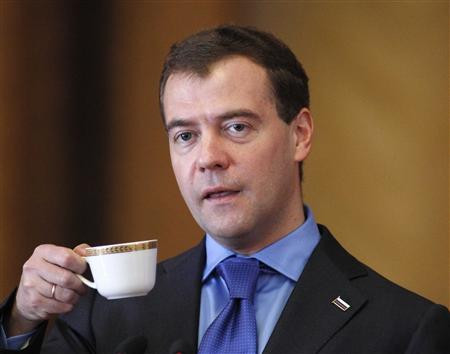 Russian President Dmitry Medvedev was in conciliatory mood today as he invited Ukraine to join the Collective Security Treaty Organisation, a security group made up of former Soviet republics. The invitation comes following an international ceremony during which invited Ukranian troops marched in Moscow's historic Red Square.
In recent months relations between Russia and Ukraine have improved, following the election in February of the pro-Russian Viktor Yanukovich as President in Ukraine. His predecessor Viktor Yushchenko was more pro-EU and attempted to take the country into that old enemy of Moscow NATO.
His attempt to join NATO was met with significant public opposition in Ukraine and was put to one side by NATO itself in 2008.
Poor relations between Kiev and Moscow during the period often led to energy problems in much of central and eastern Europe as Russia would occasionally put a stop to oil and gas supplies through pipes going to Ukraine, but also serving much of the continent of Europe.
The new relationship seems to be less frosty with Mr Medvedev making his first state visit to Ukraine this week. Mr Medvedev said, "If in the future you would consider it proper to join the CSTO, we would be happy to accept you... The CSTO is not the Warsaw Pact... we do not need confrontation with NATO or other military blocs."
Less than two weeks ago Ukranian troops took part in a military parade in Moscow marking the 65th anniversary of the Allied victory over Nazi Germany in the Second World War. Troops from other former Soviet republics also marched, as did British, American, French and Polish troops.
The event was promoted as an event of reconciliation and was even attended by German Chancellor Angela Merkel, who sat beside Russian Prime Minister Vladimir Putin during parade.
In addition local relations appeared to improve last month as Ukraine said that Russia's Black Sea fleet could extend its lease at its Sevastopol base in the Black Sea for another 32 years in return for cheaper gas.
However last week saw the circulation of a video on the internet which alleged to show Russian security forces killing survivors of the plane crash which killed Polish president Lech Kaczy?ski. Russian authorities dismissed the video, which is far from clear, as being a hoax circulated by Georgians or Ukranians attempting to smear Moscow.
The aftermath of the plane crash, which occurred as Mr Kaczy?ski was going to attend a memorial event for the Katyn massacre at which Poles were killed en masse by Soviet forces, helped to improve Polish-Russian relations to some degree due to the sympathetic words offered by Mr Medvedev and Mr Putin.