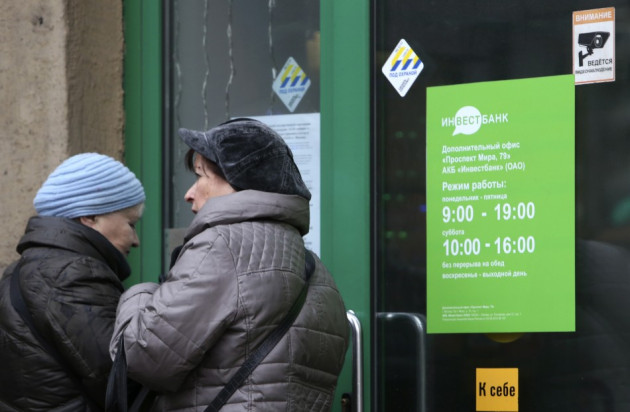 Russia's central bank has banned three more banks from operating in the country due to shady financial activities.
The banks that had their licences revoked include Investbank, which is the 79th largest in Russia by assets.
Investbank was accused of dubious activities and mounting problems related to its payments to depositors and creditors.
The central bank also noted that Investbank was guilty of false financial reporting and inadequate capital levels.
The other two banned banks are Smolensky bank and Project Finance Bank, which rank 125th and 129th, respectively, according to Reuters.
The three banks have combined assets of about 138bn roubles ($4.2bn, €3bn, £2.6bn), according to allbanks.ru.
All three banks had experienced recent payment problems with depositors and creditors.
Clients of the closed banks will get insurance payments totalling 51bn roubles starting from 27 December, according to t Russia's Deposit Insurance Agency.
Almost 30 Russian banks have lost their licences in 2013, in drive to regulate banking activity.
In November, the central bank revoked the licence of Master Bank, a mid-sized bank based in Moscow, which caused widespread problems with payment transactions across the country.
Masterbank was also found to be involved in money laundering and other "suspicious operations".
Elvira Nabiullina, who was appointed as the central bank's new boss in June, had earlier noted that ending shadow banking in the country would be her prime task.
After stripping Master Bank off its license, she said it was not the only bank the regulator had in its sights.
Nabiullina is being backed by President Vladimir Putin in her regulatory efforts.
"We must continue our principled and firm approach to rescuing our financial-credit system from various money laundering operations," he told top officials and businessmen during his annual State of the Nation address.
Sergei Ignatyev, former chairman of the central bank, said in an interview that Russia lost about $49bn in illicit capital flight in 2012 due to tax avoidance, bribes and payments for illegal narcotics.