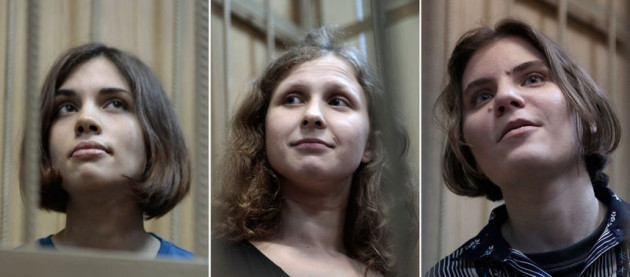 Three members of a Russian all-girl punk band charged with hooliganism after a performance in a Moscow cathedral have announced they are to go on a hunger strike.
Nadezhda Tolokonnikova, Yekaterina Samutsevich and Maria Alekhina, of Pussy Riot, announced the strike in protest at a court ruling on 4 July that they must finish their defence in five days.
The trio have been in jail for more than four months on charges of hooliganism after singing an anti-Kremlin song in the Christ the Savior Cathedral, the biggest church in Moscow.
They face up to seven years in jail if found guilty.
Wearing a T-shirt with the famous Spanish Civil War slogan, "No pasaran!" (They shall not pass), emblazoned across it, Tolokonnikova told the court: "I announce a hunger strike because it [the ruling] is unlawful. Until July 9th is not enough [time] for me. I am categorically against it."
The defence team were attempting to table a motion to allow lawyers until 1 September to read through the 2,800 pages of case documents.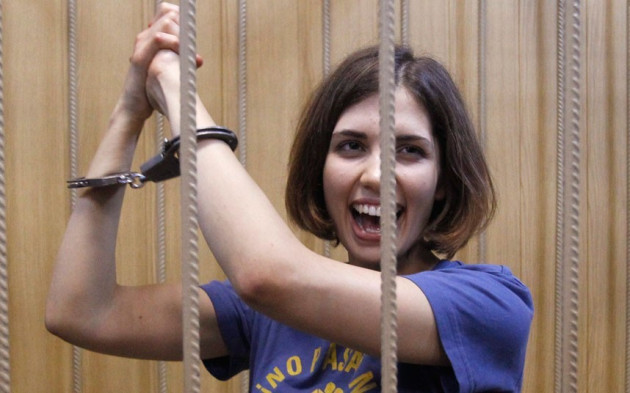 Nikolai Polozov, a lawyer for Alekhina, said outside the courtroom: "There is nothing in Russian law that could qualify these actions as criminal.
"The case is full of procedural violations and they are trying to speed up the hearing to ensure that we don't have time to respond to them all.
"This is a return to the Stalin trials."
Tolokonnikova, Samutsevich and Alekhina were arrested when the band, in masks, stormed Russia's holiest cathedral and sang a protest song called Virgin Mary, Chase out Putin, in reference to the upcoming presidential elections.
In chaotic scenes outside the courthouse, police detained a dozen Pussy Riot supporters who had gathered in protest.
More than 100 of Russia's best-known actors, directors and musicians called for the release of the band members in an open letter, saying they presented no "real danger" to society