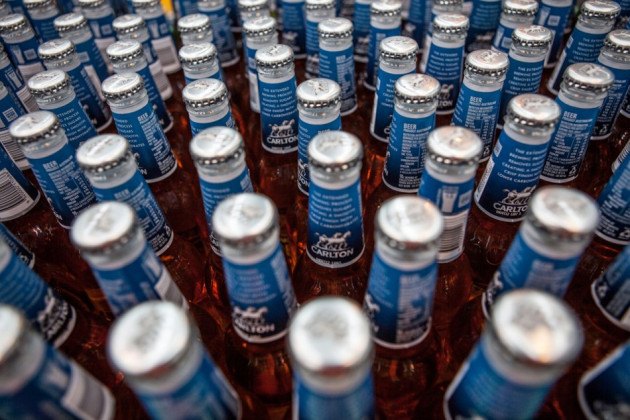 The shares of SABMiller have gained more than 5 percent in morning trade after the beer maker recorded a double-digit growth in interim profit helped by its Latin American and African operations.
SABMiller shares were trading at 2,774.50 pence, up 5.20 percent as at 9:20 am GMT.
The world's second-biggest brewer reported a pre-tax profit of $2.28bn (£1.43bn) for the six months to 30 September, up 12 percent year-over- year. The results included exceptional charges of $127m, compared to $191m in the year-ago period.
Excluding charges, adjusted profit before tax rose to $2.76bn from $2.46bn. Adjusted earnings per share rose to $1.18 from $1.03.
On a reported basis, group revenue for the six-month period increased 11 percent year-over-year to $17.48bn. Revenue improved by 8 percent, on a constant currency basis that excludes the impact of foreign exchange rates.
"We grew volumes and revenues across most regions despite a moderation of growth in some emerging markets. Development of brands, product ranges and the route to market continued across the breadth of our portfolio supported by further improved operating processes," the company said in a statement.
Beer volumes, excluding acquisitions and disposals, increased 4 percent, compared with 3 percent growth a year earlier. Soft drinks volumes increased 6 percent and total reported volumes were up 9 percent.
Earnings before interest, tax and amortization (EBITA) increased by 17 percent to $3.17bn, helped primarily by a 15 percent growth in Latin America and an 8 percent growth in Africa, which more than offset a 10 percent decline in recession-hit Europe.
The median analysts' EBITA estimate was $3.1bn, according to Bloomberg News.
"Broad-based revenue and profit growth in the first half reflects the continued success of our approach to the development of our brands, product portfolios, distribution and sales effectiveness," said CEO Graham Mackay.
The maker of Miller Lite, Grolsch and Peroni noted that its recent acquisitions helped the results, especially the EBITA margin that improved 30 basis points, despite higher input costs. Australia's Foster's, which the company acquired in 2011 for $11.8bn, contributed "significantly" to the interim results.
SABMiller also raised its interim dividend by 12 percent to $0.24, while being cautious on its prospects for the second half, as some of its markets continue to be affected by tough economic conditions.