Information supplied by Sabu, the high-profile former member of Anonymous who turned informant for the FBI has led to a Reuters journalist being charged with aiding the hactivist group.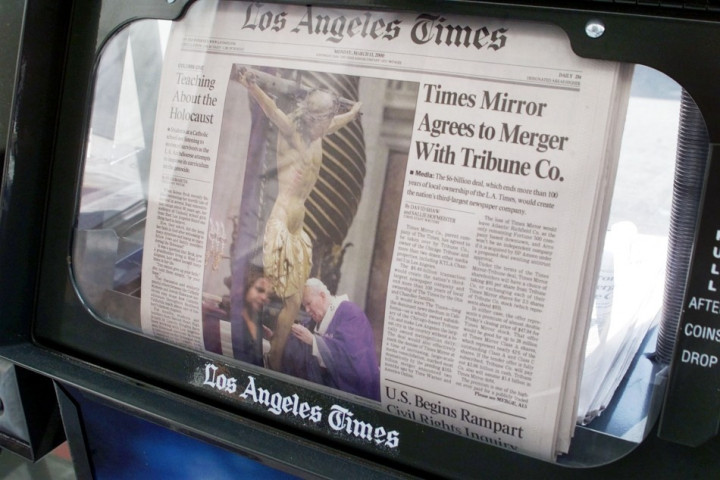 Matthew Keys, a 26-year-old deputy social media editor at Reuters is alleged to have supplied login credentials to Anonymous for the computer system of the Los Angeles Times back in 2010. The LA Times is owned by Tribune Company, a former employer of Keys.
The indictment alleges that Keys handed over login credentials to the system's servers urging Anonymous members to "go f**k some s**t up."
Keys appears to have discovered the charges against him via Twitter, posting the following message on the micro-blogging site hours after the indictment was filed:
I am fine. I found out the same way most of you did: From Twitter. Tonight I'm going to take a break. Tomorrow, business as usual.

— Matthew Keys (@TheMatthewKeys) March 14, 2013
Keys worked as a web producer for television station KTXL FOX 40 in Sacramento, which is owned by the Tribune Company, when he lost his job in late October 2010.
According to the indictment, filed Thursday in the Eastern District of California, Keys then handed over the login credentials through a forum frequented by Anonymous members, having identified himself as a former Tribune Company employee.
Anonymous
The Anonymous member who took the credentials identified himself as Sharpie but was in actual fact Hector Xavier Monsegur, aka Sabu, using one of his many aliases. At the time he was not yet working for the FBI, with his arrest and transformation into informant coming in June 2011.
Having received the login credentials, Monsegur accessed a server belonging to Tribune Company and altered an artilce published on the LA Times website on 14 December, 2010.
The headline of the story was changed from "Pressure builds in House to pass tax-cut package" to read "Pressure builds in House to elect CHIPPY 1337." The sub-heading of the story was changed from "reluctant House Democrats are feeling the heat to pass it," to "House Democrats told to SUCK IT UP." The author byline was also changed from Lisa Mascaro to "Chippy's no. 1 Fan."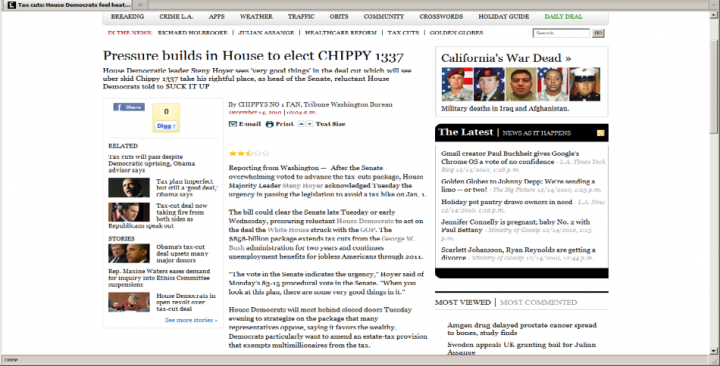 Keys faces three charges in total, including conspiracy and the transmission of data to damage a computer. If convicted on all charges, Keys could face up to 30 years in prison as well as fines up to $750,000.