Sacha Baron Cohen: Hasidic Jews Tried To Kill Me In Jerusalem
Borat star Sacha Baron Cohen had to dodge rocks as he was chased through the streets of Jeruslem by ultra-Orthodox Jews.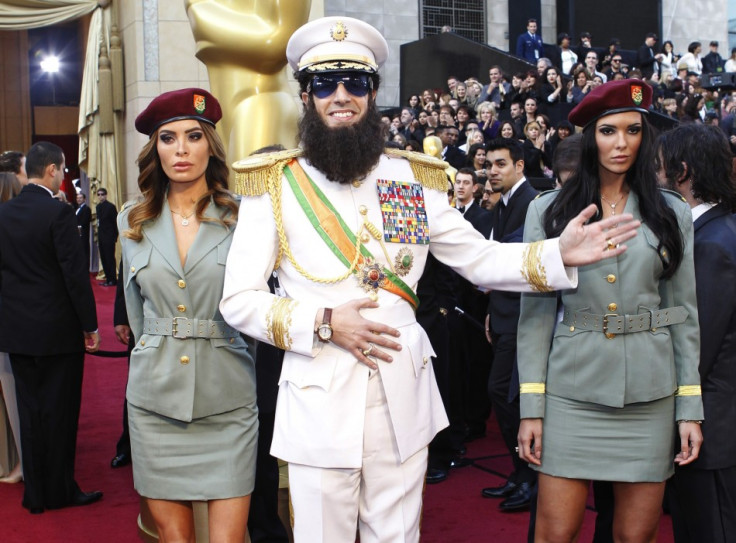 Borat star Sacha Baron Cohen had to dodge rocks as he was chased through the streets of Jerusalem after he mocked the distinctive appearance of ultra-Orthodox Jews.
He outraged them by wearing a camped-up version of their traditional attire, wearing hot pants and a sleeveless top as he starred as one of his comic creations, fashion reporter Bruno.
Speaking at the Cannes Film Festival as he promotes his new movie, The Dictator, Sacha revealed the danger he has faced in his controversial roles and said, "A bunch of Hasidic Jews ran after me with rocks, and I ended up hiding in a bathroom store.
"Normally, in dangerous situations, I have a getaway car. But as I ran towards the getaway car, it drove away.
"So I found myself running down the street, running for my life, and being chased by these Hasidic nutcases.
"I turned round to calm them down, and I shouted in Hebrew 'I am Jewish,' which apparently is the worst thing ever you can tell Hasidic Jews.
"It was then they decided that they wanted to really kill me," the Daily Mirror reported.
The Ali G and Borat star plays Admiral General Aladeen in the new film, which he says is a parody of "ludicrous" tyrants such as Colonel Gaddafi.
Baron Cohen denied the role was an attack on Arabs and said the only people who would be offended by it would be "dictators and fans of dictatorship."
He told BBC Radio 4's Today program, "The interesting thing is, when we asked to shoot inside the United Nations, they actually refused.
"We said, 'This is a pro-democracy movie.' They said, 'That's the problem -- we represent a lot of dictators, and they are going to be very angry by this portrayal of them so you can't shoot in there.'"
Baron Cohen was giving his first British broadcast interview as himself -- rather than one in one of his comic guises.
The comic also talked about the relationship between his Jewish background and his comic career, saying that a "history of persecution" had meant that Jews had to develop a sense of humor, and citing U.S. comics such as Jerry Seinfeld, Larry David and Adam Sandler.
But Baron Cohen, who has used his characters to expose apparent prejudice, said he did not think there was "much anti-Semitism" in England.
He said: "I think relatively, compared to certain other European countries, it's quite minor. I never really experienced much."
© Copyright IBTimes 2023. All rights reserved.