You can't imagine the X Factor semi-finalists will be getting much sleep tonight.
The four remaining acts are one live show away from finding out who will make it into next week's final, when they will have the chance to change their lives forever.
Beyonce Vs Elton John week had them all belting out ballads and pleading for public votes like their lives depended on it.
But it was mother of two, Sam Bailey who stole the show yet again and almost certainly bagged herself a place in the final. Her rendition of Elton John's Candle In The Wind won her a standing ovation from the judges and demonstrated that just when you think you''ve heard her sing her best she raises the bar yet again.
Expressing her delight at the performance in her own, unique way, Nicole Scherzinger said: "When I listen to your voice...Oh shiitake mushrooms, it was so bad it feels so good.
"Mrs O, I take my lashes off to you... for the job you did with Sam. I can't wait to see you in the finals where you belong," she added.
Bailey's mentor Sharon Osbourne burst into tears after the performance saying: "Thank you so much. I do love you Mrs."
A prison officer by day and bathroom singer by night, Bailey has spent the last eight weeks rubbing shoulders with pop stars and exchanging texts with music legends. She admits to regular text exchanges with American crooner Michael Bolton, who is said to be a huge fan, as is Robbie Williams.
Having had a taste of the high-life it's hardly surprising to find that Bailey doesn't want to go back to prison.
'I miss the people I worked with and I miss being a prison officer," she told The Metro. "It's not something I can let go of straight away, but I doubt I will go back to work as a prison officer."
Her voice has certainly won her admirers, but since Tamera's Foster's departure she's also been named the biggest diva backstage, reportedly complaining that she receives less freebies than the other contestants and demanding a limo to take her to the Royal Variety Performance, 150 metres away.
Regardless, she's the bookies favourite to win, and she's captured the nation's hearts, but will she win their votes?
As we brace ourselves to find out who will make it into next week's nail-biting final, here are five reasons why Sam Bailey gets our vote: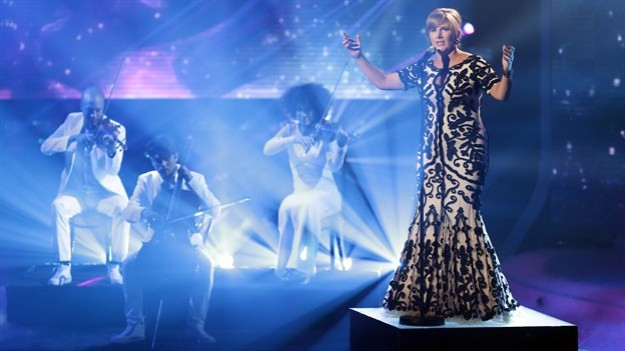 1. In an industry that prizes youth over experience, the 39-year old mother of two, might have thought her chances of launching a music career were non-existent, but she is proof enough that age is no obstacle to success and nor is talent the domain of youth. While Tamera Foster, with her youth and inexperience buckled under the pressure, Bailey has a strong foundation to withstand the rigours of fame. This won't be a flash in the pan career that descends into sorry headlines of divorce, drug use or excess. Bailey is level-headed enough to hold her own and carve a lasting career in music. And you can be sure she won't take any cr**p from Simon Cowell.
2. Despite the diva claims, the Leicester born prison officer seems endlessly likeable, with a naturally warm demeanour. Her working class roots and her unbridled excitement for jam tart Wednesday's make her ever more endearing. We like our superstars to be grounded. And let's face it, we Brits love an underdog. Think Paul Potts, Susan Boyle. It'll all make for a great movie someday.
3. If she wins, the glamorous working class Mum will adorn the pages of music mags everywhere. In a world of size zero models baring their all, and twerking pop stars, Bailey represents a rather more demure side of the music industry, where her talent speaks for her. Thirty plus women will now have a worthy role model in the straight-talking mum with the voice of a music legend in the making.
4. And that voice alone is reason enough why Sam Bailey should take the title of X Factor Winner 2013. Whether she's belting out a ballad or taking on Beyonce she'll make your heart soar every time. As Louis Walsh would say: "It's all about the voice Dermot."
5. With two young children and the support of an adoring husband, Sam Bailey is flying the flag for working mothers everywhere. Going from prison officer to pop diva, she is proof that dreams can come true. As she said: "I want to do it for people who want to live their live their dream, just like I'm doing right now."
Find out who will go through to The X Factor Final in tomorrow's results show on ITV 1 at 8pm.