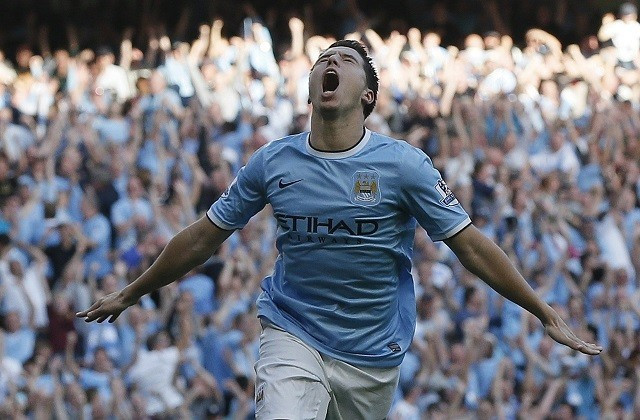 Samir Nasri has revealed that his decision to leave Arsenal for Manchester City was solely to win silverware.
The French international left the Emirates and joined the Citizens in 2011. In his debut season at the Etihad, the midfielder went on to win the Premier League title under Roberto Mancini. He then added the Community Shield and the Capital One Cup medal to his list of honours in a City shirt.
There were accusations that Nasri's decision to move to City had a financial motive. However, the former Arsenal midfielder has played down speculations and claims he has no regrets about leaving the north London club.
"My departure from Arsenal? When you leave for a club where there is more money, you are supposed to be mercenary," the Express quoted Nasri as saying.
"I took stock before I went to Manchester City, I was joining a club with Yaya Toure, David Silva, Sergio Aguero, Carlos Tevez [Former City Player]. I spent three seasons at Arsenal without any title and at the end of the season we sold our best player that was Cesc Fabregas."
"I preferred to join City and I won titles and indeed I earn a better living. And why not a second national title in three years? I am very happy with my choice," the former Arsenal midfielder said.
Nasri has scored four goals and managed five assists in 26 league appearances for Manuel Pellegrini's side this season.
Despite his impressive performance for his club, the 26-year-old has not been selected for the France national team since their World Cup qualifier against Ukraine last November. Nasri claims he is more pessimistic than optimistic about his chances of making it to Brazil for the World Cup.
"For the moment, I'm more pessimistic than optimistic about the World Cup. Against Netherlands (the last friendly), it was the last squad before the 30 are announced, and I haven't had an explanation," Nasri told Canal+.
"I remain circumspect, because I have never had a problem with anyone in the squad. I have asked to speak to the national team coach."
"For the moment, he hasn't accepted. When I'll have had that discussion, I'll know what is being held against me and what my problem is. I will respect his decision whatever," he concluded.