On 25 April, Samsung officially confirmed that its next Galaxy device would be powered by 1.4GHz Exynos 4 quad-core processor according to Market Watch.
The Korean giant has introduced its first quad-core application processor which is built on High-K Metal Gate low-power process technology. The efficient Exynos 4 quad-core processor will allow the system-level architects to include maximised power efficiencies in the smartphones and tablets which ensures the processing power at a 20 percent lower power over its predecessor. Hence, the announcement throws light on Samsung's upcoming flagship smartphone which will be powered by quad-core and not a dual-core processor.
"The quad-core processor offers phenomenal multitasking abilities surpassing any single or quad-core application processor. Since all the cores must share a single battery, the power management and efficiency in the limited battery capacity are indispensable for mobile computing devices," said Taehoon Kim, Vice President of System LSI marketing, Device Solutions, Samsung Electronics.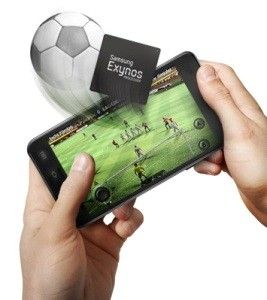 The processor enables multicore processing feature which delivers improved performance, and allowing users to complete multiple tasks in a short span of time. For instance, users can stream a video which will keep running on one core, while the remaining cores will update apps in the background or checking of virus concurrently. Thereby, the Exynos 4 quad-core is suitable for heavy-load apps such as 3D games, videos and more.
"Samsung's next Galaxy device, which will be officially announced soon, offers uncompromised performance and ground-breaking multitasking features, thanks to Exynos 4 quad's powerful performance and efficient energy management technology, "said Hankil Yoon, Senior Vice President of Product Strategy Team, Samsung's Mobile Communications Business.
The Exynos 4 quad-core has two times the processing capability over the 45nm process based Exynos 4 dual-core processor. It is reported that Samsung has adopted hot-plug functionality which will support on-off switching for each core. In addition, it offers support for per-core dynamic voltage and frequency scaling which provides a dramatic reduction in power usage during the different levels of voltage and frequency.
The new processor allows in playing Full HD on one's device with multi format codec (MFC). When a ppicture is taken, the Exynos 4 quad offers the best image quality through an internal ISP solution with lower power consumption claims Samsung. It is pin-to-pin compatible with the Exynos 4 dual, which allows the devices' suppliers to use the latest solution without design efforts.
"Already in production, the Exynos 4 quad is scheduled to be adopted first into Samsung's next Galaxy smartphone that will officially be announced in May. Samsung's Exynos 4 quad is also sampling to other major handset makers, "claims Market Watch. Moreover, Meizu has made an announcement that its new MX smartphone will be powered by Samsung's Exynos A9 quad-core processor according to IBTimes UK.
Check out the video of Samsung Exynos Processor's performance.