Verizon has officially announced the Samsung Galaxy S3, while the exact date of release is still unknown. Pre-order began on 6 June, and the device is expected to be shipped by 9 July, according to an internal document. Speculation is rife that the device could be shipped on 6 July. If the former date turns out to be true then Verizon customers would have to wait for more than two weeks after the release of T-Mobile and Sprint devices. Both the T-Mobile and Sprint have scheduled the launch for 21 June.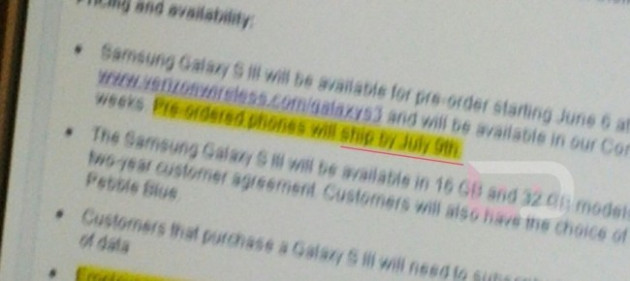 Verizon offers the 16GB and 32GB models which are priced at $149.99 (£97.19) and $249.99 (£161.99) respectively with a new two-year contract. "Customers that purchase a Galaxy SIII will need to subscribe to a 4G LTE mobile broadband data package starting at $30 monthly access for 2GB of data," read the press release. The folks at Droid Life have managed to contact Verizon's PR team to know more about the payment plans. According to reports, if the users pre-order the device, even at the subsidised $199.99 or $249.99 then he/she will get to keep their unlimited data package (assuming he/she has one now).
If you are a new customer or would want to add a line, then it would not be possible to subscribe to an unlimited data plan even if you pre-order the device. It results in subscribing for $30 a month for 2GB of data.
"We aren't exactly sure what will happen to those of you that do not pre-order and wait until the phone is actually launched, as there is a chance that Verizon will have kicked off their shared data plans by then," claims Droid Life.
Verizon is expected to send an Over The Air (OTA) update that will let customers using the device with 4G LTE connectivity to benefit global roaming.
"Verizon Wireless confirmed to Phone Scoop in an email that its variant of the Samsung Galaxy SIII will eventually be able to roam onto 2G/3G networks of overseas network operators. The capability won't be available at lunch, but will be enabled down the line through a software update. Verizon didn't say when that update might become available," reported Phone Scoop.