When Samsung announced the Galaxy S3, it promised that the 64GB version of the device would be available later this year. Now, although Samsung has not officially confirmed the release of the 64GB Galaxy S3, retailers have already revealed its pricing details.
Italian retailer Marcopolo has announced that it will be selling the 64GB version at a suggested retail price of €799 including VAT (approximately £645). The retailer notes that the 64GB Galaxy S3 model is identical to the 16GB version. The 64GB Galaxy S3 users will be able to expand the storage space up to 128GB via a microSD card. The retailer does not provide much information on the release date of the device.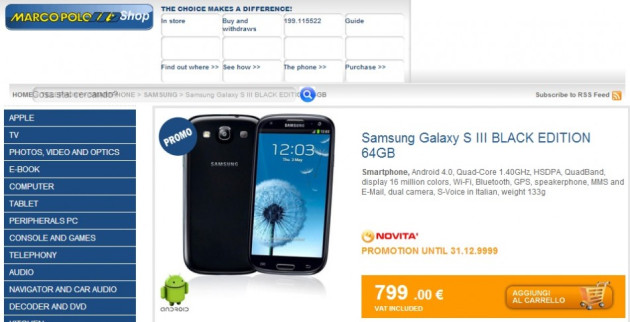 Another Italian retailer, eprice, is also stocking the 64GB version in a price range similar to that of Marcopolo. Again, there is no word on the release date.
Amazon Germany has confirmed the pricing of the device which is listed as €780.35 (approximately £628) on its site.
There is one thing in common: all three retailers are stocking only the black version of the 64GB Galaxy S3. It is not clear if the 64GB model will be available in other colours or not.
Besides, there is no information on the UK availability of the smartphone.
Much before the Italian and German retailers confirmed the availability, Clove UK blogged that the 64GB Black Galaxy S3 would be available in the UK in early October. The retailer had then requested interested customers to register for the device. However, Clove UK noted that the pre-order would be open once it gets the pricing confirmation of the device. The product page of the Galaxy S3 does not carry any pricing details.