Samsung will end 2012 as the world's biggest mobile phone manufacturer, ending Nokia's 14 year reign at the top.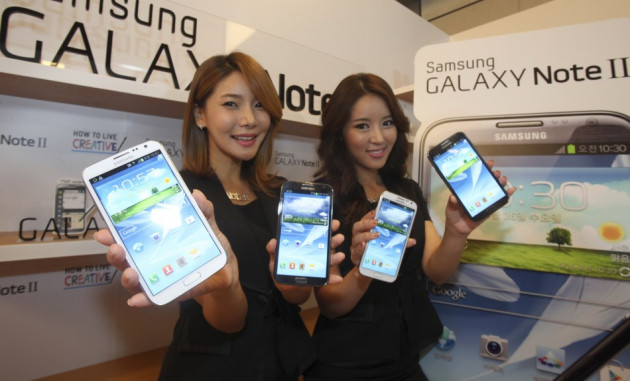 The latest figures from research from IHS iSuppli show that Samsung will be the biggest mobile phone manufacturer for 2012 as a whole, the first time the South Korean manufacturer has held this position.
Nokia, which has topped the list for the last 14 years, has seen its market share plummet in recent years, though it still retains 24 percent of the total mobile phone market. Samsung on the other hand is on the rise, jumping from 24 percent in 2011 to 29 percent in 2012.
Apple is the other major winner in 2012, going from a seven percent market share alst year to a 10 percent share of the market in 2012, which is phenomenal when you consider it sells just one phone, compared to the hundreds of Samsung mobile phones on the market.
Nokia has been struggling for a number of years now, ever since it missed the smartphone explosion in 2007 and decided to stick with its outdated Symbian operating system. Last year it took a bold move to finally ditch Symbian and partner with Microsoft to use its Windows Phone operating system.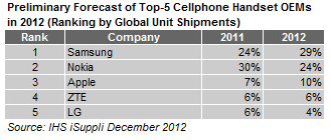 According to the latest figures from Gartner, Microsoft only has a 2.4 percent share of the smartphone market. Nokia only has only a slice of this percentage, with companies like Samsung and HTC also producing Windows Phone devices.
Clinging on
Nokia is clinging on to a quarter share of the overall market thanks to its Symbian phones and new range of budget Asha devices selling in large numbers in developing countries. These phones however are quickly coming under pressure from cheap Android smartphones from companies in the Far East, which offer much more features at comparable prices.
"The competitive reality of the cellphone market in 2012 was 'live by the smartphone; die by the smartphone,'" said Wayne Lam, senior analyst for wireless communications at IHS.
"Smartphones represent the fastest-growing segment of the cellphone market-and will account for nearly half of all wireless handset shipments for all of 2012. Samsung's successes and Nokia's struggles in the cellphone market this year were determined entirely by the two companies' divergent fortunes in the smartphone sector."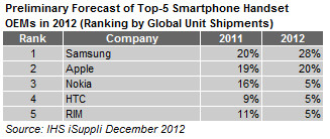 Smartphones accounted for 47 percent of the total mobile phone market in 2012, with Samsung once again topping the table with 28 percent market share. Apple is second with 20 percent, followed by Nokia, HTC and RIM, all of whom have just 5 percent.
Bad year
While Nokia's woes are well known, it has also been a bad year for HTC and RIM, with both losing approximately half their market share in the past year. RIM is struggling to contend in the smartphone market and seemed to put everything on hold in 2012 as it worked on its BlackBerry 10 operating system, which will launch at the end of January.
RIM has had a turbulent two years with numerous management issues, service outages and poorly received smartphones combining to create a negative perception of the company. It is pinning all its hops on BlackBerry 10 which faces in an uphill battle to help regain RIM's market share.
HTC has also suffered as its new range of smartphones - the One series - failed to grab the public's attention in 2012, while its share of the low-end smartphone market has been gobbled up by the likes of ZTE and Huawei.
Looking forward to 2012, IHS anticipates the continued growth of smartphones, with the devices gaining a majority hold of the mobile phone market at 56 percent.