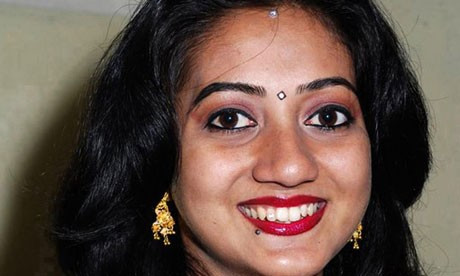 An inquest into the death of a woman at an Irish hospital four days after suffering a miscarriage have returned a verdict of medical misadventure.
Savita Halappanavar, 31, was 17 weeks pregnant when she arrived at the University Hospital Galway on 21 October complaining of back pain. She was then found to be miscarrying and died of septicaemia after being refused an emergency abortion because of the Catholic country's strict laws.
Following an inquest into her death, a jury returned a unanimous verdict of medical misadventure and declared the Indian dentist could have been saved if she was an allowed an abortion.
The 31-year-old's death brought international outcry and put pressure on Ireland to reform its anti-abortion laws.
The coroner, Dr Ciaran MacLoughlin, said the verdict does not suggest failings in systems at the hospital contributed to Halappanava's death.
Her husband reportedly asked several times over a three-day period for a medical termination, as she was in severe pain.
He said the request was refused because a foetal heartbeat was still present and they were told: "This is a Catholic country".
At the inquest, Praveen Halappanavar said today would have been their wedding anniversary. MacLoughlin suggested a list of nine recommendations that the Irish Medical Council should impose so doctors know when exactly they can intervene. Currently, abortions are illegal in Ireland, unless the life of the woman is in danger.
He said the recommendations would remove any doubts doctors and nurses might have and avoid another death like that Halappanavar's.
Among these recommendations are that blood samples should be properly followed up; additional training for hospital staff for the treatment of septicaemia; and early communication with patients and their relatives to ensure that a treatment plan is readily explained and understood. The coroner also recommended that a dedicated time should be set aside at the end of each shift for these recommendations to be followed.
An early warning score chart, medical notes and nursing notes and documents were also among the new measures proposed.