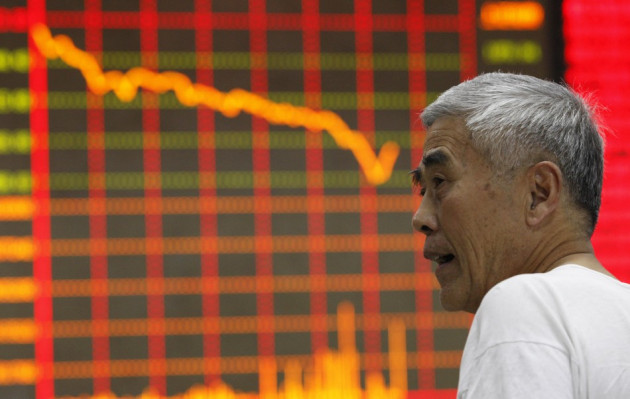 Asian markets took another hammering, pulled down by mainland Chinese stocks, following China's central bank's reluctance to step in and ease the liquidity crunch in the world's second largest economy.
Investors sold stocks on concerns that China's slowing economic growth rate could fall further.
A bear market is when there is around a 20% decline in a market over a two month period.
The Shanghai Composite index entered bear market territory on Tuesday, down 5.28% earlier in day or 103.62 points to 1859.62, pulled down by banking stocks. The benchmark index has logged an over 20% drop from a ten-month high hit in February, 2013.
The People's Bank of China (PBOC) announced on Tuesday that it would not inject or drain funds into markets . However, the central bank did try to pacify hassled markets on 24 June when it said that bank liquidity remained at reasonable levels and that it had asked Chinese banks to strengthen liquidity management, to ease the tight liquidity condition.
Hong Kong's Hang Seng was down 1.76% or 349.23 points to 19464.75, pulled down by Chinese liquidity concerns
The Japanese Nikkei was down 2.17% or 283.57 points to 12779.21, paring a 1% gain earlier in the morning, as a stronger yen hurt exporters' stocks.
Australia's S&P/ASX was down 0.59% or 27.60 points to 4644.60, pulled down by commodity stocks.
South Korea's Kospi was down 1.31% or 23.55 points to 1775.46 points.
China's seven-day repurchase agreement rate (repo rate) in the Shanghai money markets had dropped to 6.5% on 25 June, from 7.53% at the previous day's close, according to Dow Jones Newswires.
The repo rate has eased from last week's 10% but remains higher than the 12-month average of 3%. "Our data are clear that there has been no flood of credit; on the contrary, which helps explain the recent SHIBOR [Shanghai interbank offered rate] spikes," Leland Miller, president of US-based China Beige Book (CBB) International told CNBC Asia on Tuesday.
On Wall Street, indices ended lower on 24 June after the selling in China, and were pulled down by Fed QE concerns.
The Dow ended 0.94% lower to 14,659.56. The SP 500 closed 1.21% lower to 1,573.09 while the Nasdaq Composite finished 1.09% lower to 3,320.76.
In Shanghai, shares of small and midsize Chinese banks suffered for a second day. Founder Securities' stock plummeted 10% and China Minsheng Banking dropped 9.9%.
Haitong Securities' stock was down over 8%. Industrial Bank fell 5.7% while China Everbright Bank shed 5.1%.
In Shenzhen, Ping An Bank's stock fell 9.9% while Bank of Ningbo lost 6.4%
In Hong Kong, Chian Minsheng Bank's stock fell 3.9%. Agile Property Holdings lost 3.3% while Beijing North Star was down 3.1%.
In Japan, automobile manufacturer Isuzu Motors, air conditioner maker Daikin Industries and electronics manufacturer Oki Electric fell over 3% each.
In Sydney, shares of Australian Infrastructure Fund plummeted 97.1% to A$0.005 following changes in substantial holdings from Wilson Asset Management Group. The stock had opened at A$0.006.
Gold miner Perseus Mining's stock tanked 21% after it announced that production for the second half of FY 13 is likely to be slightly below the lower end of the guidance range of 105,000 to 125,000 ounces.
Mirabela Nickel's stock fell 11%. Oil and gas major Linc Energy's stock dropped 12% after crude oil prices declined.
However, retailer Billabong's stock surged 13% while foods manufacturer Goodman Fielder's stock gained 5%
In Seoul, index heavyweight Samsung Electronics was down 1.5% and Lithium-ion battery manufacturer Samsung SDI lost 2.5% while LG Display was down 1%.