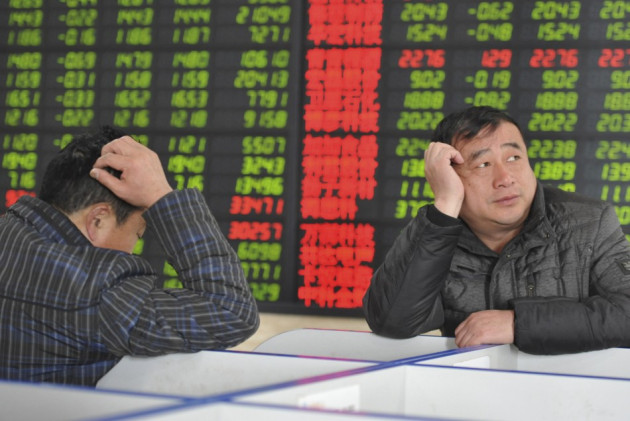 Asian equities dropped to fresh nine-and-a-half month lows after Chinese markets plunged by the sharpest level so far this year.
Markets declined following concerns over the liquidity crunch in China and fears that the US Federal Reserve could start pruning its massive bond buys later this year
The Hang Seng was down 1.53% or 309.68 points to 19953.63, pulled down by Chinese liquidity concerns
The Japanese Nikkei was down 0.44% or 58.34 points to 131171.79, paring early gains.
The Shanghai Composite was down 3.25% or 66.43 points to 2005.67, pulled down by banking stocks.
Australia's S&P/ASX was down 1.29% or 61.10 points to 4677.70.
South Korea's Kospi was down 0.36% or 6.51 points to 1816.32 points, trading at a new 11-month low.
The markets were influenced by the reluctance of the The People's Bank of China to infuse funds into money markets as Chinese interbank rates remain above the 6% level.
However, the central bank did try to pacify the markets by stating that bank liquidity remained at reasonable levels and that it had asked Chinese banks to strengthen liquidity management, to ease the liquidity crunch in the world's second largest economy.
On Wall Street, indices were battered by Federal Reserve chief Ben Bernanke's comments and ended lower during the week ending 21 June. The Fed's $85bn a month bond-buying programme has stimulated the US economy and the markets the world over for a while now.
The Dow Jones Industrial Average finished the week 1.8% lower to 14,799.40.The S&P 500 index closed 2.11% lower to 1,592.43 in the five days of trading ending 21 June while the Nasdaq ended 1.94% lower to 3,357.25 during the week.
In Shanghai, Minsheng Bank's stock tanked 9%, Industrial Bank's stock dropped 8% while Pudong Development Bank was down 5.5%.
Both Industrial and Commercial Bank of China (ICBC) and Agriculture Bank of China (ABC) lost 2.7%. Beer maker Tsingtao Brewery shed 1.9%
In Hong Kong, ICBC lost 2.5% while ABC was down 2.6%. Footwear maker Belle International Holdings dropped 6.1%.
In Tokyo, shares of both heavy machinery manufacturer Kawasaki Heavy and construction equipment maker Komatsu were down 4%.
Nissan Motor's stock shed 2.4% while rival Honda Motor's stock lost 1.7%. Retailer Seven & I Holdings was down 1%.
Japan's fastest growing mobile carrier Softbank's stock gained 2%, after Dish Network abandoned a rival bid to acquire US telecommunications firm Sprint Nextel.
In Sydney, gold miner Medusa Mining's stock tanked 15% while rival Perseus Mining fell 13%, aftergold futures dropped by about $100 an ounce last week. Newcrest Mining's stock tanked 7.1%
Australian financial services major AMP's stock crashed 10.4% in heavy trade after the company warned investors that it expects its first-half underlying profit to be lower than estimated, hovering between $415m and $435m, owing to increasing life-insurance claims.
Iron ore miner Fortescue Metals Group's stock dropped 4.6%, while BHP Billiton's stock fell 3.3%.
In Seoul, telecommunications stocks SK Telecom and LG U fell 4% each. Retailers Lotte Shopping and Shinsegae both lost 3% each..