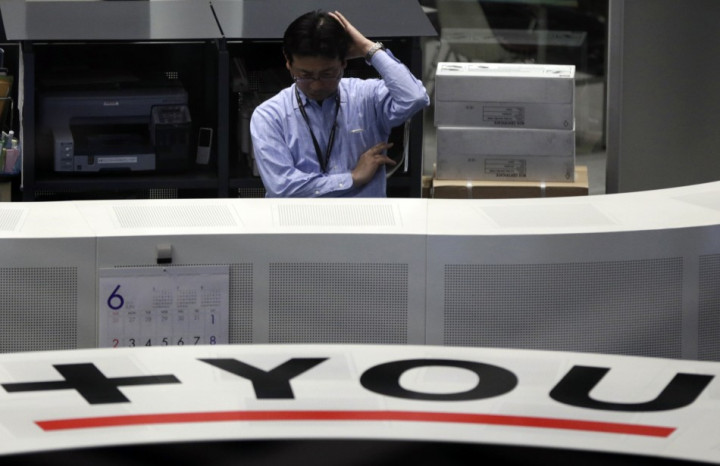 Asian markets tumbled on Monday after Chinese stocks took a hit on Beijing's reluctance to ease monetary policies despite slowing economic growth. Fears over the Federal Reserve's tapering of its quantitative easing (QE) programme also impacted Asian equities.
The Shanghai Composite index was down 1.90% or 38.12 points to 1969.07
The Japanese Nikkei was down 1.02% or 146 points to 14,163.97. Government data showed that Japan's current-account surplus missed forecasts after tapering in May. The surplus shrank to 540.7bn yen (£3.58bn, $5.33 bn, €4.16bn) from April's 750bn yen, after exports grew 9.1% from a year ago and imports rose by 9.6%.
Hong Kong's Hang Seng was down 2.22% or 463.06 points to 20,391.61.
Australia's S&P/ASX was down 0.52% or 25.20 points to 4816.50.
South Korea's Kospi was down 1.13% or 20.64 points to 1,812.67 points.
Last week, China's State Council, the country's cabinet said in a statement that it would block off credit to force a consolidation of industries which delivered excess production. It also plans to step up the supervision of wealth-management products and emphasised financial market stability.
In the US, the government reported that the economy created 195,000 non-farm jobs in June, following a similar number of job additions in May. The unemployment rate, however, remained fixed at 7.6% as more people entered the labour market.
Wall Street indices ended higher on 5 July following upbeat US jobs data. The Dow finished 0.98% higher at 15, 135.84. The S&P 500 index closed 1.02% higher at 1631.89, while the Nasdaq ended 1.04% higher at 3479.38.
Friday's US labour market data provided further evidence that the world's leading economy is recovering, albeit slowly. Some economists now expect the positive figures to prompt the Fed to reduce its asset buying from the start of September.
In Hong Kong, realty firm China Resources Land dropped 2.9%. China Construction Bank lost 2.8% while Industrial and Commercial Bank of China (ICBC) was down 2.7%.
PetroChina Co shed 2.2% even after US benchmark crude prices hit $103 a barrel
In Shanghai, China's largest tin producer Yunnan Tin tanked 10%, after the company said that Chairman Lei Yi, is being investigated for alleged 'serious disciplinary violations.'
Coal miner China Shenhua Energy dropped 7.8%, partly because the stock traded without dividend rights.
Shandong Gold Mining fell 6.3% while Jiangxi Copper shed 3.2%. Realty firm Shanghai Shi Mao lost over 2% while China Construction Bank (CCB) shed 2%
In Sydney, gold miners Perseus Mining and Medusa Mining fell 9% and 6% respectively after gold prices fell by $26 on Friday following upbeat US jobs data. Positive news typically pushes up the US dollar and pulls down gold prices.
Atlas Iron dropped 5%. Anglo-Australian miner Rio Tinto was down 2.5% while BHP Billiton shed 2.4%
Woodside Petroleum shed 0.1% even after US benchmark crude prices hit $103 a barrel.
In Tokyo, consumer electronics major Sharp added 2.7%, Fast Retailing gained 2.4% while automobile maker Daihatsu Motor added 1.8%.
Tokyo Electric Power gained 9.5% while Sumitomo Electric Industries added close to 5%
Power utilities Hokkaido Electric Power added 2.3% while Kansai Electric Power moved up 2%. A Nikkei newspaper report on Friday named the two firms as being among four major utility companies that proposes to restart electricity generation from their nuclear power plants.
In Seoul, shares of Asiana Airlines dropped 5.9% after its Boeing 777 aircraft with 307 people on board crash-landed at San Francisco international airport, killing at least two passengers.
Index heavyweight Samsung Electronics shed 3.5%.