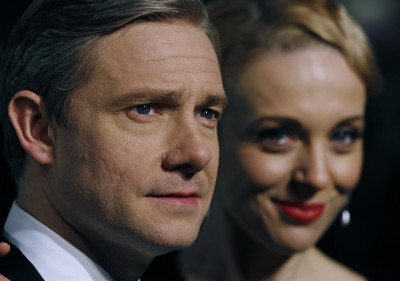 Amanda Abbington reportedly received online death threats from Sherlock fans after it was announced that she would play Dr Watson's wife, Mary Morstan, on the show.
Abbington, is the real-life partner of Martin Freeman, who plays Dr Watson in the hit BBC1 series.
"When I told everybody I was playing Mary, there was a small group who wanted me dead. I got, 'She should die. How dare she play Mary Morstan? How dare she!'" she told The Times.
The 39-year-old actress was targeted after fans felt she will come between the two main characters, played by Freeman and Benedict Cumberbatch.
"They take the John and Sherlock storyline so seriously that they wouldn't want anyone coming between them," Abbington added, but clarified that a romance between the two characters is unlikely since "it's like a brotherly love."
Abbington had previously shared her excitement about working with Freeman.
"Working with Martin is a joy, it really is," Abbington said. "The infuriating thing about Martin is he will get his sides, his script, and he'll say 'right, go over it with me'. He'll read it once, he'll read it twice and then he'll say 'test me' and he'll know his lines verbatim.
"It's so infuriating as it takes me quite a while to learn lines, but he just knows them straight away," she added, "[Martin's] so brilliant to work with. He's my best friend as well. It's nice to be able to share this with him. I really love it."
Former The Office star Freeman and Abbington are not married in real life but have been together since 2000 and have two children together, a son and daughter.