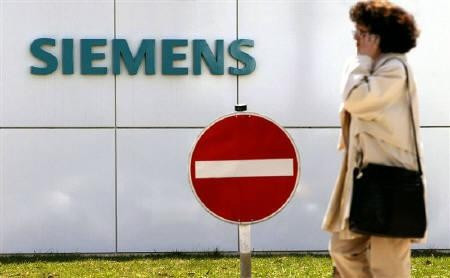 Siemens will axe 15,000 jobs over the next year as part of a €6bn cost-cutting exercise.
The move represents a 4% reduction in the 370,000 employee strong business.
A third of the losses will be seen in the engineering firm's German-based units.
Siemens and its unions have reached an agreement over about half of the job cuts and a deal on the other half will follow, a spokesman told Reuters.
No workers have been laid off so far and Siemens has said it does not intend to make enforced redundancies, relying instead on attrition and voluntary severance deals.
The announcement follows the engineering company's plans, which were revealed last year, that it is targeting profit margins of at least 12% across all of its sectors.
The Siemens 2014 initiative has already seen the employer acquire engineering firm LMS International for around €680m (£567, $918m).
The plan will also help the organisation "increase its competitiveness, and become faster and less bureaucratic", according to a company statement.
Trouble at the Top?
The news also comes just two weeks after embattled Josef Ackermann was reported to be on the verge of stepping down from the Siemens board.
The speculation surfaced just weeks after he resigned as chairman of Zurich Insurance Group in the wake of late Chief Financial Offer Pierre Wauthier's suicide.
Ackermann, who is a former chief executive of Deutsche Bank, is on the verge of quitting his deputy chairman role at German engineering giant Siemens, an anonymous source with knowledge of the situation told Reuters.
Neither Ackermann nor Siemens have commented.
He left the board of insurer Zurich in August after his colleague Wauthier's suicide, which has been linked to the pair's fraught working relationship, after it was referenced in the CFO's final note before he took his life.
Siemens has not responded to a request for comment at the time of publication.