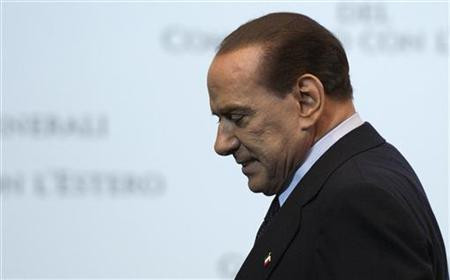 Italian Prime Minister Silvio Berlusconi denied planning to quit on Monday. In a message update to his Facebook page, he said "the rumours of my resignation are groundless."
Rumours that Berlusconi would quit surfaced Monday morning when two pro-government journalists reported the media tycoon was about to step down within hours. Berlusconi's leader in the lower house, Fabrizio Cicchitto, however denied that the Prime Minister was on his way out.
Earlier, Giuliano Ferrara, editor-in-chief of pro-government daily Il Foglio and long-time confidante and loyalist of the 75-year-old tycoon said in a video message: "That Silvio Berlusconi is about to resign is clear. It is a question of hours, some say of minutes."
Berlusconi apparently changed his mind after a lunch in Milan with his children by his first marriage, who hold key positions in his business empire, and Fedele Confalonieri, the chairman of his Mediaset TV empire.
Franco Bechis, editor-in-chief of pro-government daily newspaper Libero, wrote on Twitter that Berlusconi would be challenging "even his own people on the text of the ECB letter". It refers to the missive Jean-Claude Trichet and Mario Draghi sent the Italian government back in the summer, detailing the reforms they expected of it. The 75 year-old media tycoon will face a confidence vote on Tuesday on emergency economic measures.
Bechis had previously stated that the Prime Minister would have resigned on Monday night or Tuesday morning.