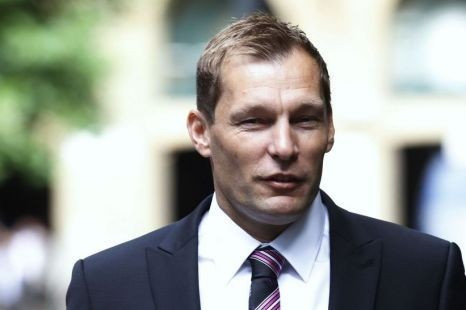 A police officer cleared of the manslaughter of Ian Tomlinson during the G20 protests in London has admitted to a disciplinary hearing that his actions amounted to gross misconduct.
PC Simon Harwood was found not guilty of the manslaughter on Tomlinson. Harwood struck the 47-year-old with his baton and pushed him to the ground in the City of London protests in April 2009.
Tomlinson struggled to his feet and walked a further 75 metres before collapsing and dying. Cause of death was internal bleeding as a result of being struck. Harwood was charged with manslaughter.
Although Harwood, 45, was found not guilty, the Independent Police Complaints Commission (IPCC) said he should face a public Metropolitan Police disciplinary hearing.
Harwood "readily" admitted that his actions at the G20 protest amounted to gross misconduct but did not accept that those actions caused or contributed to the father-of-nine's death.
The disciplinary hearing in west London heard how Harwood had twice offered to resign but Scotland Yard refused to accept it.
At the manslaughter trial, Harwood, from Carshalton, Surrey, said he believed he had used "reasonable force" on Tomlinson.
Patrick Gibbs QC said: "PC Harwood does accept that the discredit which his actions, and the way in which they have been reported, has brought upon the Metropolitan Police Service amounts to gross misconduct.
"If he had known then what he now knows about the circumstances, everybody's movements and Mr Tomlinson's health, he would have used no force, let alone the force that he did use."
An inquest ruled that Tomlinson was unlawfully killed at the G20 protest, prompting the Crown Prosecution Service, which had initially declined to prosecute, to reverse its decision and bring charges against Harwood.
Harwood accepted in court that it was "wrong" for him to push over Tomlinson, who was drunk at the time.
It also emerged during the trial Harwood had a string of allegations of misconduct against him during a 12-year-period, including claims of abuse of authority and one claim of racial abuse.
He was allowed to retire on medical grounds in 2001 before a disciplinary hearing took place but rejoined the Met in late 2004.