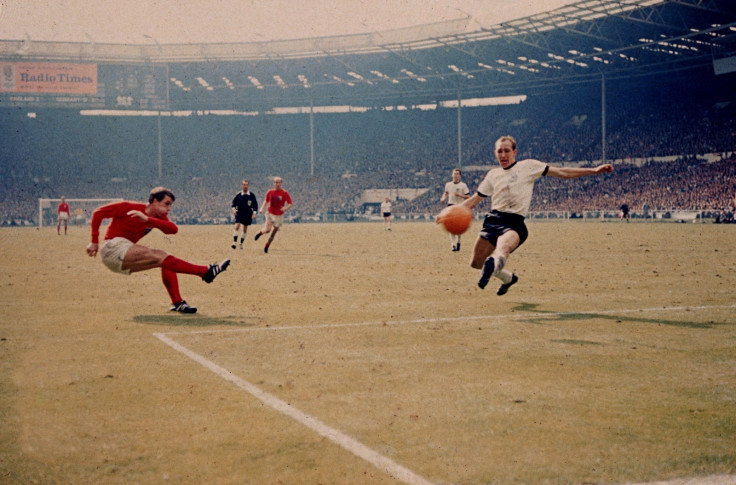 The shirt worn by England striker Sir Geoff Hurst during the 1966 World Cup final against West Germany has gone unsold at auction after it failed to reach the £300,000 reserve price. The iconic red shirt was worn by Hurst when he scored a hat-trick in the famous 4-2 victory at Wembley 50 years ago – the only time England have ever won a major football tournament.
The shirt was estimated to be sold at London's Sotheby's auction house for between £300,000 to £500,000 but failed to get more than £270,000 at auction. A spokesperson for Sotherby's told IBTimes UK: "The shirt is a hugely important and valuable piece of footballing history, and it generated a great deal of interest ahead of the sale. Though widely admired in the months preceding today's auction, and despite having seen bidding in the salesroom, the shirt failed to reach its reserve price, so unfortunately did not find a buyer."
Hurst provided one of the most memorable moments in British sporting history while wearing the number 10 shirt, after he scored his third goal in the dying moments of the final, prompting BBC commentator Kenneth Wolstenhome to utter the immortal line: "There's some people on the pitch they think it's all over... it is now!"
A description of the red shirt by Sotherby's specialist Gabriel Heaton read: "This shirt, worn by the match's star player, is the most significant obtainable artefact relating to this historic match.
"It represents a legendary moment in the annals of English football, and a sporting achievement that has never been repeated in half a century. It's a really special, unique item – there is a premium attached to it and it's these sort of items that increase in value over the years."
Hurst, who scored a total of 24 goals in 49 appearances for England, was not even the first choice striker in the team at the 1966 World Cup. He replaced the injured Jimmy Greaves, one of England's all-time great strikers, for the quarter final and kept his place for the final as manager Alf Ramsey did not want to change a winning team. The decision paid off, and to this day Hurst is the only player to have scored a hat-trick in a World Cup final. It was also the perfect hat-trick, with one goal scored with Hurst's left foot, one with his right and one with a header.