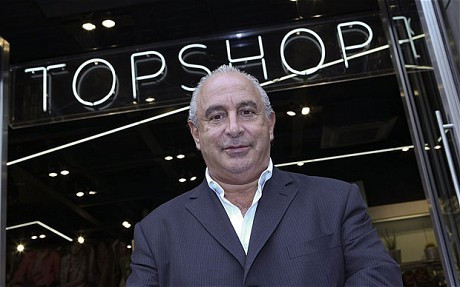 Retail tycoon Sir Philip Green has sent shockwaves through the UK high street after revealing that he is to shut up to 260 stores following a massive drop in profits.
The man behind the Arcadia group, one of Britain's largest retail chains, revealed plans to shut down 10 per cent of his UK stores, which include high street favourites Topshop, BHS, Miss Selfridge, Burtons and Wallis.
The news comes just as the billionaire reported a staggering 40 per cent plunge in Acadia's profits and as many retailers prepare for another bleak Christmas.
The closing of Arcadia stores is a blow to other high street giants, who continue to struggle in the economic downturn caused by the recession. The shutdown issues a warning to other chains that they, too, could be forced to close stores.
According to Green, the company's sales slump was mainly due to the weather and the tough economic climate. He claimed the unseasonably warm autumn put a dent on the sale of winter clothing and that the group could be forced to close down up to 260 stores in a bid to cut spending.
The company also admitted that it took a £53 million hit to absorb price increases.
The 59-year-old businessman said that Arcadia had only managed to ramp up underlying pre-tax profits of £133.1 million. compared to £213.1 million last year, with like-for-like sales, including VAT, falling by 1.8 per cent.
Speaking at a meeting convened for 160 Arcadia senior managers and executives, he said the year had been "painful" at times, but reiterated that they couldn't be working harder in a "tougher environment".
"We are still investing, we are still trying to grow this business," Green said.
"We have the advantage of being a private, family-owned business where you can get a decision made in 60 seconds," he added.
The tables seem to have quickly turned for the company that experienced a rise in profits during this period last year. In November 2010, the chain's pre-tax profits rose 6.4 per cent to £213.2 million in the full year that ended 28 Aug.
At the time, retail mogul Green had said: "I am pleased to be able to report operating profit for the group of £279.6 million, up 10 percent, and excellent cash generation of £386.2 million, up £43 million on last year. I believe this to be a good performance in what was a competitive and challenging year."