Six Nations 2016: Eddie Jones announces self-imposed media ban after Johnny Sexton controversy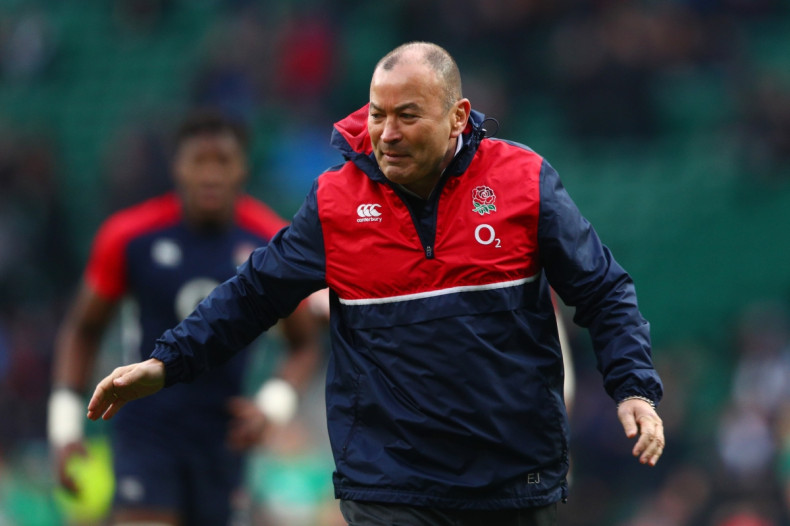 England head coach Eddie Jones has placed himself under a media ban in the build-up to his team's potentially decisive Six Nations clash with Wales on 12 March. The outspoken Australian, who was selected by the Rugby Football Union (RFU) as successor to Stuart Lancaster in November 2015 following the hosts' dismal 2015 World Cup showing, was speaking after his first home match in charge at Twickenham ended with a deserved victory over defending champions Ireland.
There was no shortage of controversy in the days leading up to that 21-10 win, with Jones inviting criticism from some quarters for his comments regarding Johnny Sexton. The talented Ireland fly-half sustained a whiplash-type injury during a brutal 10-9 defeat to France in Paris two weeks ago and the England boss subsequently commented: "Sexton is an interesting one, they've talked about him having whiplash injury, which is not a great thing to talk about. I'm sure his mother and father would be worried about that. Hopefully, the lad's all right on Saturday to play."
The fallout from those words dominated the narrative before Saturday's crunch encounter and has seemingly led to Jones opting against speaking his mind again ahead of the visit of Warren Gatland's side in a fortnight.
When asked for his thoughts on Wales' performance in their victory over the French, he told reporters: "I'm not going to tell you, mate. From this press conference onwards I'm putting a media ban on myself because I don't want to do any scaremongering. I don't want to do anything that offends the media or offends people's parents. So from here until the Friday before the Wales game I'm not talking to the media.
"If I don't say anything, then you come away from the press conference and say it's boring. If I say something, then I'm scaremongering. I can't win. So the easiest way is I don't come to press conferences...I don't regret anything. Why would I regret it? Ireland said that he had whiplash injuries, not me. Let's get factual about this."
England were certainly improved from their previous wins over Scotland and Italy against Ireland, although only led 6-3 at the break despite spending much of the first half camped inside the opposition 22. Ireland's hopes of retaining the title they have won in each of the last two years were effectively over before kick-off, yet Jones still foresaw a tough test.
"We'd expect that against Ireland," he said. "They are the incumbent Six Nations champions so we expected a pretty tough game. We probably left 10 to 15 points out there in the first half. I though the structure of our attack was excellent, our finishing wasn't. But if you get the structure right the finishing will come. In terms of where we've gone from the start of the Six Nations to today, I think today was a pretty decent step up."
In Billy Vunipola, England certainly boast a very valuable weapon. The powerful Saracens forward again led his country in carries made and metres gained and Jones is hopeful that he is on course to compete for the title of the world's best number eight.
"100%. You can see he's enjoying it. I think what he's enjoying is the team environment. I think he's enjoying playing with the boys. He's got quite a senior role as vice captain. He's not a great talker but he leads by example and that's what we want of the vice captain is to do that."
Victory over Ireland coupled with France's poor showing in Cardiff means that England are the only team remaining in this year's Six Nations that can still claim a coveted grand slam. That is a feat not achieved by any side from these shores since Sir Clive Woodward's formidable unit warmed up for their World Cup triumph with a blistering run in 2003.
Speaking about the possibility of winning the slam, Jones joked: "I'm still trying to work out what a grand slam means. All we want to do is beat Wales in two weeks."