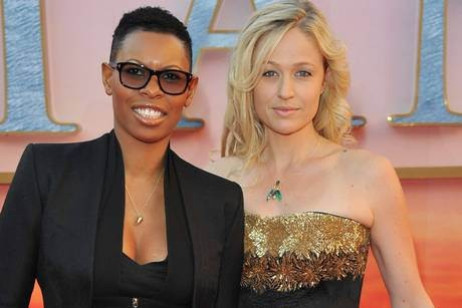 Skunk Anansie star Skin and her Texan heiress partner Christiana Wyly are suing their wedding planners for more than £100,000 after they were left with bills totalling around £62,000.
The 45-year-old singer- real name Deborah Dyer - and her "gorgeous wifey" Wyly, daughter of major George W. Bush supporter Sam Wyly, wanted their big day to be unforgettable spending more than £100,000 on a lavish civil partnership celebration in a secluded Italian venue.
According to Dyer, they paid a one-off, all-inclusive fee to the women-only wedding planners, Besos Concierge, which was supposed to cover all the costs for the event, which included a live orchestra, and up to £10,000 on flowers and cocktails.
Shortly after their nuptials, the musician claims that the couple were bombarded with unpaid demands from the caterers, musicians, florists and the children's entertainer.
"As of February this year, Ms Dyer and Ms Wyly have been contacted by a total of nine suppliers to whom approximately £62,000 was owed," said Abra Bompas, Dyer and Wyly's lawyer.
The British rock star and Wyly - whose father is a billionaire - claim that the company breached the terms of their contract.
They have issued a High Court writ against Besos Concierge - asking for their money back.
On top of the £62,000, the couple are also seeking £30,000 they say they were required to pay Besos as a "membership fee", plus £8,687 they allege they paid Besos, and £15,423.80 of their cash they say the company still holds.
The firm contests any obligation to make any outstanding payments to suppliers and claimed Ms Dyer and Ms Wyly "had failed to provide sufficient sums to Besos". The couple deny these allegations.