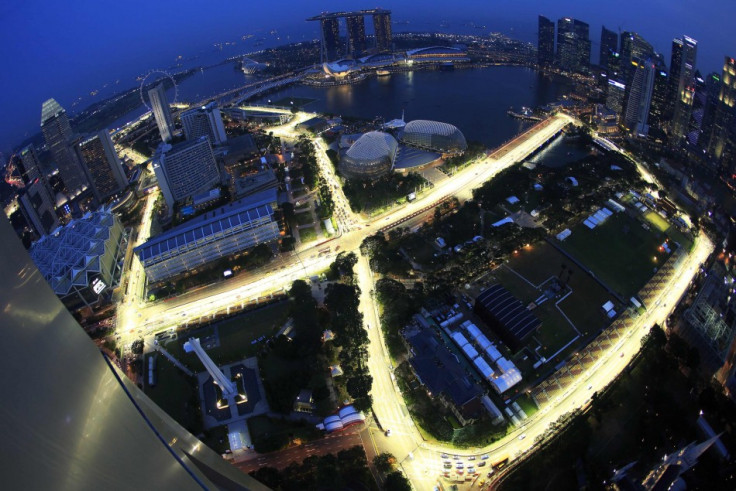 It is still unclear whether the Formula One race in Singapore will go on as planned this weekend as the island continues to be enveloped in heavy smog due to forest fires from neighbouring Indonesia.
The dense cloud of haze that has settled over Singapore and some parts of Malaysia, have already forced several sporting events to be cancelled in Singapore and schools to be closed in Malaysia.
Organisers of the Singapore Grand Prix have said they are closely monitoring the situation but have refused to say whether the race, to take place on 20 September is under threat, The Telegraph reports.
A spokesman said: "In the event that the haze caused visibility, public health or operational issues, Singapore GP would work closely with the relevant agencies before making any collective decisions regarding the event."
The newspaper said that any disruption to the night race, F1's blue-riband event since it was introduced in 2008, would be a major blow to the sport.
The decision on whether it will be safe to race will be made by the FIA Race Director Charlie Whiting after consulting both the drivers and the teams, Associated Press reports.
AP said that the Singapore Grand Prix has always been held at this time of the year and while there had been some haze in the past due to forest fires, it has never stopped a race from going ahead.
The haze is largely caused by the burning of forests to clear land for agriculture in Indonesia. said.
In the F1 championships, so far, Briton Lewis Hamilton is leading German Nico Rosberg by 52 points in the drivers' championship and he needs to finish all seven remaining races in second place to take a third title.
The Pollutant Standards Index, Singapore's main measure of air pollution rose to 222 in the early hours of Monday, the highest in a year and above the official "very unhealthy" bandwidth of 200, according to the National Environment Agency.
In an update, Singapore said its Minister for the Environment and Water Resources Dr Vivian Balakrishnan had spoken with his counterpart Dr Siti Nurbaya Bakar over the haze situation and reiterated Singapore's offer to help.
Indonesian authorities have already deployed aircraft, helicopters, as well as military and police forces to control the fires and conduct law enforcement.
The government has urged its citizens to avoid prolonged or strenuous outdoor physical exertion while those with chronic lung or heart disease should avoid outdoor activity.