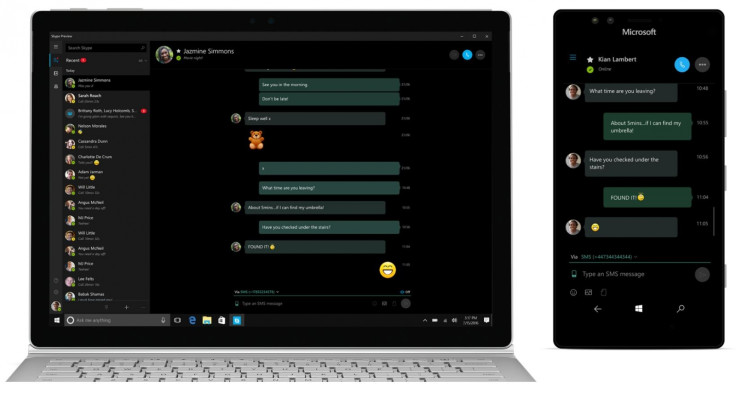 The Skype team has rolled out Skype Preview 11.9 for Windows 10 users both on PC and mobile platforms. The Skype Preview adds a new feature called SMS relay that allows Windows 10 Mobile users to send and receive text messages and MMS messages from Windows 10 PC.
You need not worry if your phone is out of reach. With the SMS relay, you can send and receive texts, group messages, and photos directly from your Windows 10 PC. All you need is to set Skype as the default messaging app, explains Microsoft. You can always turn this feature off, if you don't want it.
To make Skype the default app:
On your Windows Phone, launch Skype Preview
Go to Settings, select "Make Skype your default messaging app"
On Windows PC
Launch Skype Preview
Head over to Settings, then select "Enable Skype on this device to sync my SMS messages"
The Skype team says it is planning to bring SMS relay support for Android in future, but did not provide details on when exactly it would be available.
How to create conversation
Once you change the Skype settings, it is easy to create a one-to-one SMS or group MMS chat. Simply tap on the + button on the Recent list to start a new conversation and then you can keep on adding people you want to chat with. Skype will select the type of conversation based on the participant's contact information. If there are multiple ways to reach the contacts, you would get an option to switch from Skype to SMS.
How to switch between Skype and SMS
You can always switch a conversation from Skype to SMS and vice versa. But for this you will need to have both the Skype name and phone numbers stored in a contact's profile.
When having one-to-one chat, you should see a line above the chat area that says Via. From there, you can select Send Via Skype or SMS. If any contact has multiple numbers, you should see the first mobile number in the list.