Thousands of videos and images sent via Snapchat and hacked through a third-party app have surfaced online in a 14GB file being shared on 4chan and Reddit.
Rumours of a massive leak of explicit images sent through the self-destructing message service first emerged last week in an incident being widely referred to as "The Snappening".
An anonymous user on 4chan claimed to be in possession of 200,000 images in a file they warned would be made publicly available on 12 October. Although widely reported, messaging boards online initially filled up with claims that the leak was a hoax.
However, over the weekend a 13.6GB file containing 85,000 images and 9,000 videos was posted to viralpop.com - a website that has since been taken down.
Before the site was deleted, hundreds of copies of the files were downloaded, many of which are now being shared through forums on Reddit and 4chan.
It is estimated that around 50% of Snapchat users are between the ages of 13 and 17, and many of those who have downloaded it have warned that many of the pictures constitute child pornography.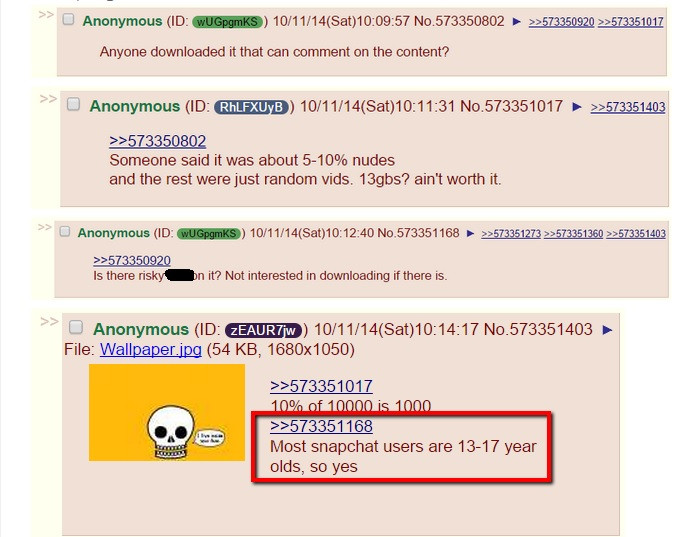 "I highly suggest you don't download this s**t," one user posted on 4chan. "I deleted it as soon as I saw how much CP (child pornography) there is on it, don't be a part of the snappening, don't seed it, don't share it, just get rid of it."
Snapchat swiftly distanced itself from the security breach, stating that the source of the leaks came from third-party apps like Snapsave that users download in order to save photos and videos that would usually be deleted by the messaging app.
"We can confirm that Snapchat's servers were never breached and were not the source of these leaks," the firm said in a statement.
"Snapchatters were victimised by their use of third-party apps to send and receive Snaps, a practice that we expressly prohibit in our Terms of Use precisely because they compromise our users' security."