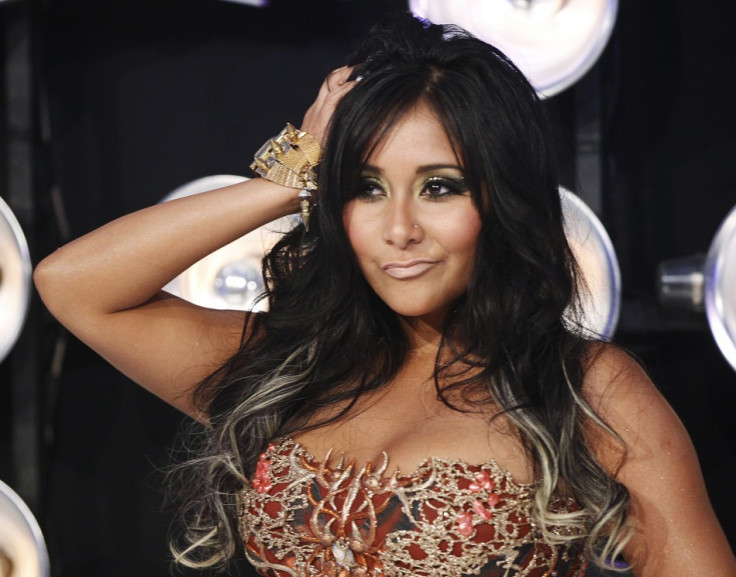 After a series of celebrity sex tape scandals and leaked photos, Jersey Shore star Nicole "Snooki" Polizzi is the latest in the list to have nude photographs of herself leaked on the Internet.
The photographs, which show the 24 year old posing nude, were shot with a cell phone camera and were seen online by Egotastic and the Daily Mail. In some shots she is seen wearing a white robe, revealing parts of her body while in others, she is seen baring it all. The photographs could have been taken in a hotel room, since a room service tray is visible on the bed.
Meanwhile, the reality star, who is pregnant with her first child with fiancé Jionni LaVelle, has not yet spoken about the issue but her spokesperson told E Online! they (the photographs) were not meant for the public.
"Clearly these are old and personal photos that were not meant for the public," Snooki's representative said, adding, "It's a shame someone decided to leak them for obvious personal gain."
However, this is not the first time Snooki has been caught in a loop of leaked photographs. In April, RadarOnline.com reported that several graphic nude photographs of Snooki were posted on a Web site called nakedSnooki.com. These showed Snooki in her bedroom, on her knees with one hand on the ground and the other holding the rail of the bed frame, with a thought bubble over her head reading: "There are no nude photos nor will there ever be. The tabloids just love snook gossip."
Snooki responded to these allegations with a post on Twitter.
"Idk where radar online comes up with their stories..weirdos," she tweeted.
Finally, Snooki has been giving glimpses of her daily life via Twitter and even posted an image with a fake baby bump.
"OMG I finally sprouted a bump!" the message read.
Snooki, who is due in September, is excited about her pregnancy.
"Everyone said I was going to have a boy, and they were right!," Snooki told In Touch magazine in May, "I thought it was going to be a girl. I was hoping it would be, because all girls want girls. It's still my baby, no matter what. I'm excited either way!"